Winter Weather Advisory Flood Watch Continue
 
 Winter Weather Advisory Flood Watch Continue
Winter Weather Advisory Flood Watch continue across much of the area. The flood watch is for the Hudson Valley & Connecticut Northeast & East as well as Northeastern Pennsylvania while the Winter Weather Advisory is for much of Eastern Pennsylvania (except the Southeast) Northwest New Jersey, the Hudson Valley mainly north of route 84 and Connecticut north of route 84. Temperatures this morning have soared into the 60s and we are seeing waves of showers and even a few thunderstorms on the radars below. We will be dealing with this all day tonight and tonight with waves of rain.
REGIONAL RADAR

LOCAL RADAR NEW YORK CITY
LOCAL RADAR PHILADELPHIA

The showery nature means there will be some dry periods in between Rainfall amounts should still be on the order of a couple of inches so between the snow melt, the cement ground, and the downpours, some localized flooding is possible in the usual suspect areas.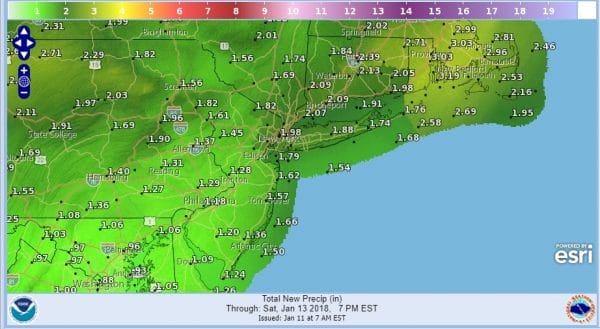 The next part comes late tonight and Saturday morning which is basically a race between the cold air and the precipitation shutting off. The Winter Weather Advisory area stands the best chance of seeing a few hours of sleet freezing rain and a little snow before it all ends tomorrow morning. Everywhere else it is just rain that ends around daybreak or so.
WINTER WEATHER ADVISORY ICE FORECAST SATURDAY 01132018
Then its windy and much colder with falling temperatures into the 20s by evening and the single digits and low teens by Sunday morning. Sunday looks nice and sunny but very cold with highs just in the 20s. Monday will be cold with clouds and some sun with highs in the upper 20s and lower 30s.
Another system will be dropping southeast from the upper midwest on Tuesday as the remnant system from today stalls out off the East Coast. Low pressure will develop on that frontal boundary and move northward but weather models remain all over the place on this with all sorts of options. The European has the most developed look of all the models but it has not performed well this winter at all and for now will not be considered too seriously. We will through in the chance for snow on Tuesday for the time being and look at this closer later today.

GET JOE A CIGAR IF YOU LIKE 
FiOS1 News Weather Forecast For Long Island
FiOS1 News Weather Forecast For New Jersey
FiOS1 News Weather Forecast For Hudson Valley
LATEST JOESTRADAMUS ON THE LONG RANGE