Summer Is Here Father's Day Very Warm Humid No Major Changes Next Several Days
The weekend is underway and we are seeing very warm and humid conditions to usher in the arrival of summer. The heatwave in Northern New England continues today. We saw all time record highs set in parts of Maine as highs reached the mid and upper 90s yesterday. This reflects what I have referred to as the upside down nature of the atmosphere at the moment with a warm upper high to the north and a cold upper low to our south which has been there for days. That upper low is weakening and sliding eastward now which should start to even things out temperature wise across the Eastern US. It isn't often when it is near 100 degrees in Maine and only in the 70s to near 80 degrees in North Georgia.
SATELLITE

REGIONAL RADAR

Satellite and radars this morning aren't showing much. We are still seeing clouds over the Middle Atlantic states. some showers are occuring along the coast of North Carolina and Southeast Virginia. There might be a pop up shower or thunderstorm inland this afternoon but other than that it is a summery day of sunshine and highs into the 80s.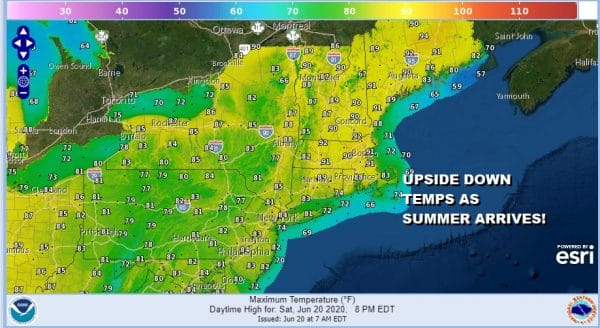 Warm and humid nights lie ahead with patchy fog and lows in the 60s to lower 70s. Father's Day will be another warm humid day with some sunshine and the chance for some inland pop ups or thunderstorms. Highs will be in the low to mid 80s. It will be cooler at the shore. There really isn't much to change things for Monday and Tuesday as a deep trough in the plains takes forever to move east and while it is strong there it will likely weaken as it heads to the East Coast. This means that the next cold front that arrives Wednesday won't be be any powerhouse nor will it rid us of the humid conditions. So it is wash rinse repeat Monday and Tuesday with some sunshine and the chance for a pop up shower or thunderstorm. Highs will be in the 80s. Wednesday we will see highs close to 90 in hot spots and perhaps a better chance for a shower or thunderstorm. Another cold front comes late Friday and perhaps that cleans house a bit for next weekend .
MANY THANKS TO TROPICAL TIDBITS FOR THE USE OF MAPS
Please note that with regards to any severe weather,  tropical storms, or hurricanes, should a storm be threatening, please consult your local National Weather Service office or your local government officials about what action you should be taking to protect life and property.