Warm Humid Father's Day Very Warm Weather Continues Next Week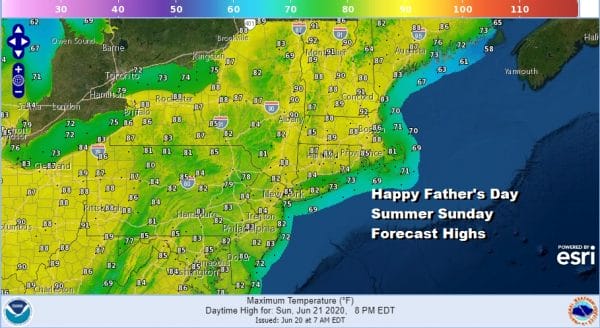 Father's Day and the first full day of summer and we are still in the same air mass. Very warm and humid conditions are with us for the next few days. On the satellite picture this morning low pressure is offshore and pulling away to the northeast. The morning is starting out with some patchy clouds in some areas but we should see partly sunny skies with highs in the low to mid 80s away from the coast and the chance for a pop up shower or thunderstorm inland. Also for the first time in nearly a week we have a more normalized temperature profile across the Eastern US. Temperatures in New England have "cooled" back into the 80s and for a change it is just as warm or a little warmer as you head south. Radars are quiet to start today and again some pop ups are possible inland this afternoon but nothing widespread and it should be dry for most of you.
SATELLITE

REGIONAL RADAR

Warm and humid conditions are with us tonight with patchy low clouds and a little fog. Lows in the mid 60s to low 70s. Monday and Tuesday are both very warm and humid days with some sunshine each day and the chance for some pop up showers and thunderstorms. The thunderstorms might be a bit more widespread late Tuesday inland due to an approaching cold front. Highs Monday will be in the mid to upper 80s and Tuesday in the upper 80s to near 90. Both days will be cooler at the shore.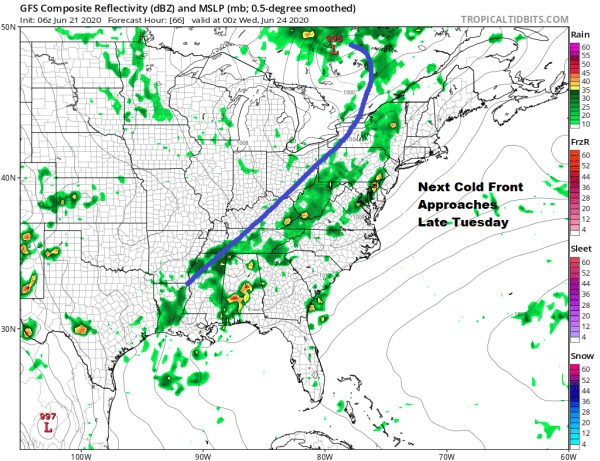 The cold front that is moving east will weaken as it nears the coast and get hung up a bit. This is because the upper air trough hangs back and waits for the end of the week to swing through the Northeast. This will likely keep things very warm and somewhat humid into Friday. A second stronger cold front will likely push through late Friday or Friday night with some showers and thunderstorms. Highs both Thursday and Friday will be in the mid to upper 80s. Enjoy your Sunday and Happy Father's Day to all the dads out there.
MANY THANKS TO TROPICAL TIDBITS FOR THE USE OF MAPS
Please note that with regards to any severe weather,  tropical storms, or hurricanes, should a storm be threatening, please consult your local National Weather Service office or your local government officials about what action you should be taking to protect life and property.