Nice Warm Sunday Snow Rain Monday Stronger Storm Wednesday

Weather in 5/Joe & Joe Weather Show Latest Podcast
Nice Warm Sunday Snow Rain Monday Stronger Storm Wednesday
The second half of the weekend is indeed better than the first half and we are going to enjoy a warm day with sunshine. Highs today will be in the 50s to around 60 degrees in some places. The cold front is passing to the east and other than some leftover low clouds and fog, it should be a good day overall. Radars are quiet today as what few showers there were have passed away to the northeast.
SATELLITE

REGIONAL RADAR

Our attention turns to Monday with the arrival of cold air and a developing wave now in Texas that will head northeastward. Clouds will increase tonight. Most lows by morning will be in the mid 30s to lower 40s. Then our low moves northeastward off the Middle Atlantic coast.
This is a quick moving system with rain developing Monday morning. On the northern fringe of this system we see chance over to wet snow and that leaves what should be nothing more than a slushy light accumulation in most places.
I think the idea of a slushy coating to a couple of inches is the best approach for tomorrow. The only difference I have with the weather service forecast is that i might pull the southern edge of that line a little further south into NYC and Long Island. This is a minor fast moving system and there isn't much room for upside unless a little more cold air gets in from the new high building to the northwest.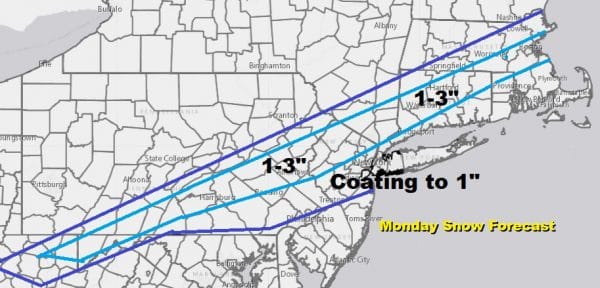 Once the low goes out skies will clear out Monday night with most lows in the 20s. Tuesday will a nice sunny day with highs in the 30s. Of course at this point attention will turn to the next and stronger system for Wednesday into Thursday. I will address this separately later this morning.
MANY THANKS TO TROPICAL TIDBITS FOR THE USE OF MAPS
Please note that with regards to any severe weather,  tropical storms, or hurricanes, should a storm be threatening, please consult your local National Weather Service office or your local government officials about what action you should be taking to protect life and property.