Monday Snow Coating To A Couple of Inches Stronger Storm Wednesday Into Thursday

Weather in 5/Joe & Joe Weather Show Latest Podcast
Monday Snow Coating To A Couple of Inches Stronger Storm Wednesday Into Thursday
It seems we have now evolved into having 2 snow events ahead of us. One is Monday as cold polar air arrives and a storm develops off the Virginia coast. This is going to be the catalyst for a second stronger storm Wednesday into Thursday. More on these two events later. First off we have today which see clouds increasing and the chance for some scattered showers as a cold front approaches. The clouds have already moved in overnight and they will thicken up some today.
SATELLITE

REGIONAL RADAR

Showers are going to be scattered in nature and they are showing up on the radars. They are coming up from the south off the ocean into Long Island and Southern New England. The scattered nature of the showers means that many of you will likely go the day without seeing a shower.
LOCAL RADAR NEW YORK CITY
LOCAL RADAR PHILADELPHIA

As far as temperatures are concerned we will see highs in the 50s to around 60 degrees this afternoon and even a few lower 60s are likely in areas as you head south toward Southern New Jersey and Southern Pennsylvania.
Saturday night we will see the cold front pass with another scattered shower or two and then set up for what should be a rather decent Sunday. Clouds will give way to sunshine Sunday. Leftover warm air means highs will be in the upper 50s and lower 60s.
The original idea for Monday was that low pressure to the south would pass far enough south and east where we would just see some high clouds and then just watch as colder air arrived on northerly winds. Instead the wave has come further north. So much so that we will have rain developing Monday as colder air arrives aloft and then changes the rain over to sleet and snow for a short time Monday afternoon.
It happens rather quickly and usually it changes over a little faster than modeled. Given the time constraints it would seem to me that this might produce a coating to an inch or 2 with some variability likely depending on terrain and urban vs rural areas.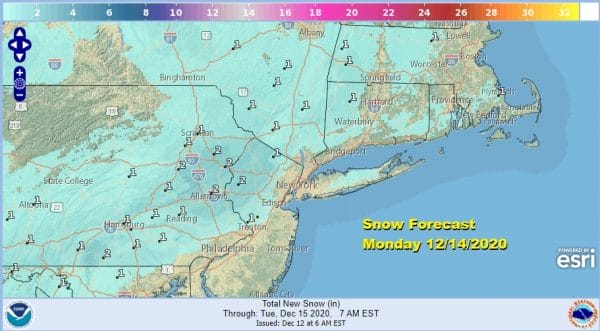 Temperatures Monday will likely be slowly falling through the 30s. The low intensifies rapidly to the east and it becomes windy and cold Monday night with lows in the 20s. Tuesday will be a sunny but cold day. Highs will be just in the low to mid 30s and we will be down in the 20s again Tuesday night. Clear skies will give way to arriving clouds ahead of storm number 2 which will arrive on Wednesday.
You can see the entire sequence of events on the GFS model loop above. What is rather remarkable is all three models are about the same. All three have shown consistency over the last 3 days and as each day passes they have barely budged on the idea of a deepening storm loaded with moisture moving up the coast into a cold blocking high to the north.
It is still early to throw out numbers on this but an early guess could be the potential for some areas to see 6 inches or more. The Weather Prediction Center in their long range outlook has increased the probability in the Day 5 forecast to 50 to 70% chance of at least an inch and they continue to pull the area of high probability further south toward the coast which makes sense. For now we will say that snow arrives later in the day Wednesday and lasts into Thursday morning. Some areas could see a change to sleet and rain for awhile Wednesday night.
We will be covering this more extensively on my weather platform on Patreon. Annual memberships get 15% or two months free.
MANY THANKS TO TROPICAL TIDBITS FOR THE USE OF MAPS
Please note that with regards to any severe weather,  tropical storms, or hurricanes, should a storm be threatening, please consult your local National Weather Service office or your local government officials about what action you should be taking to protect life and property.