Major Storm Wednesday Into Thursday Wind Rain Coastal Flooding
Flash Flood Watch Northeastern Counties of New Jersey
Wind Advisory Coastal Counties of New Jersey
We are on course to experience a major storm that will be developing along the coast Wednesday into early Thursday. First off there are no issues tonight and no issues for the Wednesday morning commute. We will see clear skies to start tonight as the satellite shows clear skies are cut out over the northeast to Virginia. Later tonight high clouds will start to arrive with temperatures overnight not going anywhere. Regional radar is quiet this evening as are the local radars. Nothing is going to to happen through Wednesday midday as clouds increase and thicken up.
SATELLITE

REGIONAL RADAR

Energy in the upper atmosphere is literally piling on into the Northeast and Northern Mid Atlantic. The upper low digs and the jet stream wraps completely around it. Low pressure develops on the southern end of the trough and moves up the coast and strengthens rapidly.
Rain develops during the late morning to mid afternoon from south to north and the rain will be heavy into tomorrow night before ending from south to north after midnight Wednesday night. Weather models are very bullish with rainfall producing 2 to 3 fast inches of rain which will cause flooding certainly in the usual suspect areas. Official forecasts are a bit lower but there certainly could be some upside.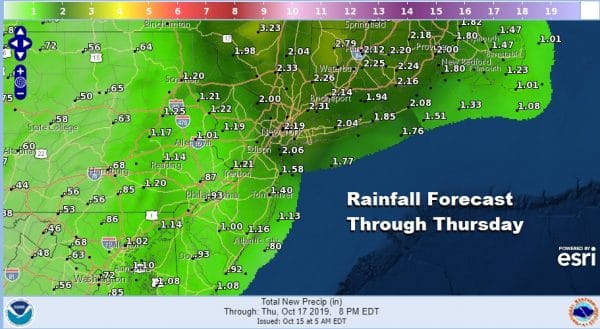 COASTAL FLOOD ADVISORY FOR PARTS OF SOUTHERN WESTCHESTER & COASTAL CONNECTICUT FOR WEDNESDAY NIGHT. COASTAL FLOODING ALSO POSSIBLE LONG ISLAND SOUTH AND NORTH SHORE
The issue of coastal flooding at high tide tomorrow night is an interesting one. High tides on the south shore of Long Island are around noon and midnight. The noon tide is astronomically higher than the midnight high tide but the midnight high tide could come with a screaming southeast wind. We think the high tide around midnight Wednesday night could be the one tide that is a serious south shore flooding issue. The Jersey shore high tides could come after the wind shifts shift around to the northwest so that could alleviate any tidal issues. Plus tides are actually on the downside away from the full moon.
Thursday is going to be a windy chilly day with leftover clouds, a few leftover scattered showers and a very gusty wind all day long as intense low pressure sits in Maine. Winds will be sustained northwest at 20 to 30 mph with gusts over 40 mph likely. Expect wind advisories to be posted and leaves will be coming down all over the place. Temperatures Thursday won't get out of the 50s. Friday will be sunny breezy and chilly with highs again just in the 50s.
The weekend is actually looking decent with some sunshine both Saturday and Sunday with highs both days in the mid to upper 60s. The next cold front will be heading east. Some tropical moisture from the Gulf of Mexico will be hooking up with this front so some showers are possible late Monday and likely Monday night before the front passes offshore by Tuesday. The weather pattern will remain busy in the longer term with troughs continuing to drop into the Eastern US for at least the next 10 days to 2 weeks.
Patreon members will see more long range analysis including a members only Weather in 10 video later today on the long range outlook.
MANY THANKS TO

TROPICAL TIDBITS

FOR THE USE OF MAPS
Please note that with regards to any severe weather,  tropical storms, or hurricanes, should a storm be threatening, please consult your local National Weather Service office or your local government officials about what action you should be taking to protect life and property.
SUPPORT THE FREE APP. SHOP AMAZON, JUST USE THE SEARCH BAR AND BUY WHAT YOU WANT!