Nice Weather Ahead Before Major Storm Rain Wednesday Strong Winds Thursday
It is back to normal after a holiday weekend and we will see sunshine today from start to finish. Perhaps some high clouds could move in late this afternoon or evening but it is a very good day from start to finish. The satellite picture this morning shows very little in the way of cloud cover across the Northeast and Middle Atlantic States today. The regional radar is nice and quiet and it should be quiet all day long. Temperatures today will be a little cooler than yesterday as we hit bottom this morning in the 40s in many areas so highs should head back to the low and middle 60s.
SATELLITE

REGIONAL RADAR

The next cold front is going to be swinging east across the Great Lakes tonight and Wednesday as low pressure moves east across the lakes. There is also a definable southern jet stream here that will be producing a solid feed of tropical moisture up the East Coast on Wednesday.
The powerful northern shortwave trough will be digging southeastward into the Great Lakes and wrapping that subtropical jet around it up the East Coast. This brings low pressure northward up the coast as the cold front swings eastward. By Wednesday morning we will see the beginnings of a coastal low developing in the Carolinas and heading northward up the coast.
We won't see rain arriving until midday or early afternoon from New Jersey and Eastern Pennsylvania to Southern New England. Southeast winds will pick up along the coast and become gusty. Heavy rain will be around for the evening commute Wednesday and we could see at least 1 to 2 inches of rain from this area wide.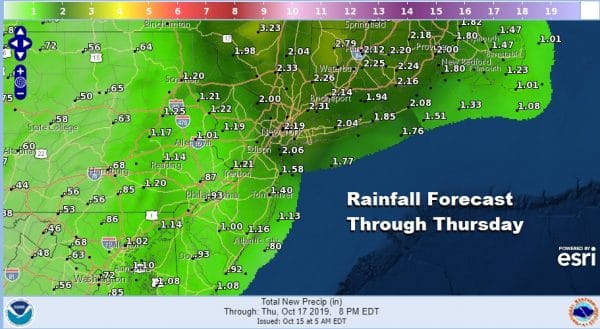 The coastal low will intensify rather rapidly as it heads into New England Thursday morning. The pressure gradient will be very tight behind it so look for it to become very windy on Thursday with northwest winds of 20 to 30 mph with gusts of 40 mph or higher likely. Weather conditions will improve south of the low center with leftover clouds and probably leftover scattered showers around as well. However it will be a very chilly mid October day with temperatures just in the 50s and with the wind certainly lots of leaves blowing around.
The low will only move very slowly to the northeast Thursday night and Friday so it will still be windy Thursday night and on the breezy side on Friday with more in the way of sunshine. Lows Thursday night will be in the upper 30s to mid 40s and highs on Friday only in the 50s again. Winds will settle down late Friday as high pressure moves overhead. Warmer weather is likely over the weekend with another cold front approaching with showers for early next week. We will get into the weekend outlook later today.
MANY THANKS TO

TROPICAL TIDBITS

FOR THE USE OF MAPS
Please note that with regards to any severe weather,  tropical storms, or hurricanes, should a storm be threatening, please consult your local National Weather Service office or your local government officials about what action you should be taking to protect life and property.
SUPPORT THE FREE APP. SHOP AMAZON, JUST USE THE SEARCH BAR AND BUY WHAT YOU WANT!