Low Pressure Heading North Cold Front Headed East Downpours Thursday Morning
T'Storm Chance PM
High clouds are starting to push northward as low pressure is developing along the Carolina coastline. At the same time a cold front is moving across the Great Lakes and headed east. The alley way is open to heavy downpours Thursday morning. Nothing is anywhere close to us this evening as dry air over New England is holding on but it gives way overnight allowing the system to the south to move north and the front to the west to move eastward. No weather issues are on tap this evening and for much of tonight. Temperatures will settle in the upper 50s to mid 60s by morning as the onshore flow ahead of the low begins to increase
SATELLITE

SOUTHEAST RADAR

The Southeast regional radar is loaded complete with a line of strong thunderstorms cutting across Florida. Heavy downpours extend northward from Georgia to North Carolina with rain developing inland in South Carolina and Western North Carolina. It is all moving slowly northeastward. Weather models each have their own ideas with the NAM 3 and the NAM 12 fairly aggressive with heavy rain and embedded thunderstorms.
The HRRR Model seems to be splitting the rain in two pieces with heavy rain to the west and to the east and a lesser area of rain lying just in the middle. Timing on this shows raining moving into Southern Pennsylvania and Southern New Jersey around 2am. It reaches NYC and Long Island around 5 to 6am. This is a quick 4 to 6 hours of rain so by midday the rain has ended for most of the area. Then we wait for the cold front to move through Thursday evening and ahead of that, depending on what is left for it to work on, there could be another shower or thunderstorm. The chances for this are low but worth mentioning just in case.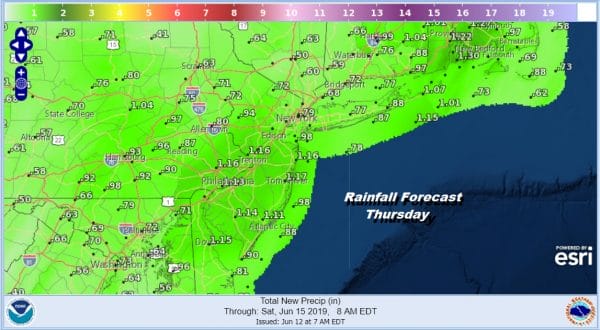 There is going to be variability in the rainfall. Some places will get a 1/2 inch. Some places could get an inch and perhaps 2 if a heavier downpour sits over you long enough. Since this is going to be happening during the Thursday morning commute, give yourself extra time.
There are no changes for Friday or the weekend and Father's Day. Friday will be a breezy to at times windy day with sun and clouds. Highs will be in the upper 60s to mid 70s. The high moves out fast off the East Coast so a warm west southwest flow begins Saturday. Look for sunshine Saturday with highs reaching into the 80s in most places including coastal areas with just a limited sea breeze. Sunday will be very warm and humid with some sunshine. The frontal boundary to the north could trigger off some late day thunderstorms inland in Pennsylvania and NY State and then it heads to the coast Sunday night with the chance for thunderstorms. The real cold front comes through late Monday which will also be very warm and humid with highs in the 80s and late thunderstorms. This is the last weekend of the spring season and it will go out with a hint of summer.
MANY THANKS TO

TROPICAL TIDBITS

FOR THE USE OF MAPS
Please note that with regards to any tropical storms or hurricanes, should a storm be threatening, please consult your local National Weather Service office or your local government officials about what action you should be taking to protect life and property.