Long Range Warmer Days Ahead


The holiday weekend is straight forward and no changes are in the forecast through Monday. It seems that the weather pattern has settled down enough to allow us to enjoy some nice days. Weather systems continue to move through with regularity but with most of the energy being spent out to our west in the Plains, they are much less potent when they reach here. The two cold fronts coming through this weekend are being kind and moving through here at night as opposed to coming through during the day. We also have a blocky nature to the pattern that is actually working in our favor going forward in that it is suppressing a busy jet stream to the south rather than trapping us in onshore flow schemes making it miserable for days on end. This is going to favor warmer temperatures especially ahead of cold fronts when they approach.
Lots of gears are turning in the atmosphere. Some subtle changes next week include the western trough shifting a bit further east into the Plains with a flat looking upper high and a weak ridge in the east. We also have a vortex in Central Canada spinning around as well as an upper low between Nova Scotia & New Foundland. An upper high over Greenland and a weak high in Northwest Canada seem to have everything pinned in. Hot air has been over the Southeast this week and some of that will try and move northward for the middle of next week. Tuesday will see a bit of an onshore flow and a warm front trying to push northward. This introduces the chance for showers and thunderstorms until the warm front passes. This would keep temperatures in the 60s and 70s until the warm front passes and the low in the Plains heads into the Western Great Lakes.
Wednesday could be setting up for a very warm to hot and humid day with highs in the 80s to near 90 and the chance for scattered thunderstorms. Then the cold front approaches with the chance for showers and thunderstorms on Thursday.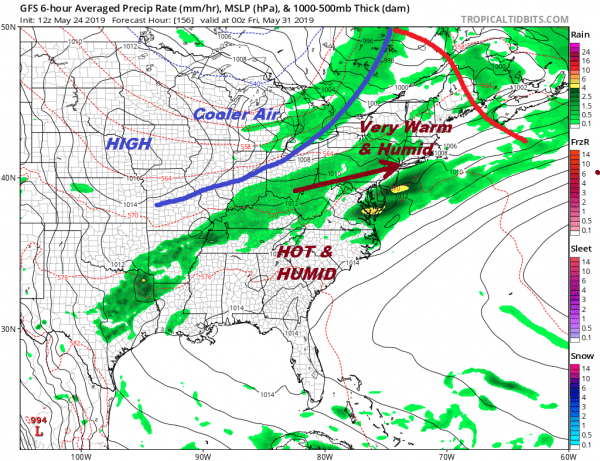 The fact that the jet stream pattern in Canada remains active should allow that front to just keep going which brings nice weather back next Friday and Saturday before another frontal system approaches on Sunday. At least this will keep warm humid conditions relatively short to only a day or 2 before a new air mass comes in to replace it. Late May early June type weather for us is most welcomed with nothing out of the ordinary expected.
MANY THANKS TO

TROPICAL TIDBITS

FOR THE USE OF MAPS
Please note that with regards to any tropical storms or hurricanes, should a storm be threatening, please consult your local National Weather Service office or your local government officials about what action you should be taking to protect life and property.