Flash Flood Watch Friday Strong Storms Heavy Rains Possible
Flash Flood Watch Friday Strong Storms Heavy Rains Possible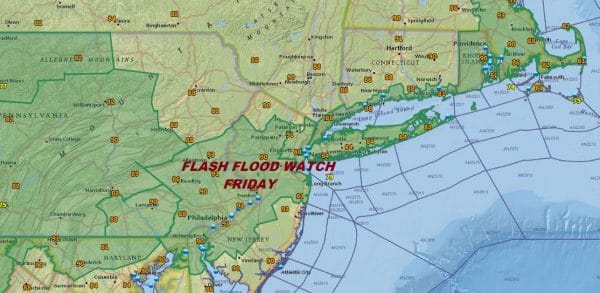 Flash Flood Watch is posted for most of Pennsylvania except the northeast..Western New Jersey (except the Northwest) as well as areas north of 195 to Northeast New Jersey, NYC, Long Island, Southern areas of the Hudson Valley and Coastal Connecticut. Over the last several days some areas have received several inches of rain or more in scattered heavy thunderstorms. Friday's cold front will be moving through but it could be a solid rain producer of at least 2 to 3 inches in some heavier thunderstorms. This of course is all a bit of a dice roll since the rain distribution from thunderstorms is always rather uneven. Nonetheless a flash flood watch goes up. Other than a few scattered pop ups tonight and mainly just inland of the New Jersey coast, there is a minimal amount of activity going on.
NAM RAINFALL FORECAST FOR FRIDAY
I could have picked any model as far as the rainfall is concerned, They are all rather different and all have heavier rains showing up in different areas. The bottom line is that the risk for flash flooding is there for the area indicated above though not everyone will see enough rain to produce flooding. Once the cold front moves through the weekend looks spectacular with lots of sunshine and low humidity with a big high coming down out of Canada. Enjoy the weekend because it will be so much different from what we have endured for the last 7 days.
GFS FORECAST MONDAY JULY 9 2018 8AM
The Canadian air mass will begin to move out Monday so temperatures will rise however this time around another front is waiting to come through late Tuesday. The long range pattern is such where the jet stream from Canada is more active and we don't have a big ridge in the east to create hot humid conditions for many days in a row.
The jet stream pattern for the middle of next week shows the upper high and the heat anchored from the Ohio Valley Westward with the Northeast and Northern Middle Atlantic states just under the influence of the trough along the East Coast. It appears this pattern will dominate for a couple of weeks. It doesn't mean it can't get hot. It could certainly reach 90 degrees for a day or maybe 2 but then a cold front will put an end to it. Then another shot of dry slightly cooler air and then another warm up. One thing to note about the trough in the East and that is the position. If it is off the East Coast then no worries as everything keeps moving along. If the trough decides to drop to the west and inland of the coast this could be problematic with stalling weather fronts and who knows what else.
SHOP THE JOESTRADAMUS STORE
MANY THANKS TO TROPICAL TIDBITS FOR THE WONDERFUL USE OF THE MAPS
GET JOE A CIGAR IF YOU LIKE!
FiOS1 News Weather Forecast For Long Island
FiOS1 News Weather Forecast For New Jersey
FiOS1 News Weather Forecast For Hudson Valley
NATIONAL WEATHER SERVICE SNOW FORECASTS
LATEST JOESTRADAMUS ON THE LONG RANGE