Weekend Warmer Shower Chance Sunday Morning More Rain Monday

Weekend Warmer Shower Chance Sunday Morning More Rain Monday
The core of the latest cold air mass is overhead today. After a very cold start temperatures are slowly climbing and we should reach afternoon highs in the 30s in most places. Skies are clear on the satellite picture except for clouds well up to the north in upstate NY. Except for a few radar echoes off the east shores of Lake Ontario, there is no precipitation to deal with today nor will we see any through Saturday. Tonight should see clear skies for most of the night with lows in the 20s except for cold spots which see lows in the teens.
SATELLITE

WEATHER RADAR

Moving on to the weekend we will see changeable conditions with temperatures rising though they will be somewhat limited on Saturday. High pressure moves offshore and wind start to turn to the south. The south wind is not an efficient warming wind thanks to the cold ocean. Skies will start with sunshine but it should become partly sunny to mostly cloudy as the day wears on Temperatures will depend on location. Draw a line from Route 78 in New Jersey and northeast, highs in this area will be in the 40s while south of that line, highs will be in the 50s.

A storm in the Plains takes a track well to the north of us Saturday night and Sunday and its trailing cold front will trigger a few scattered showers Sunday morning into midday. The southwest flow will warm things up nicely and we will see highs reach the 60s north and east of Route 78 in New Jersey but to the south of there where the risk for showers will be lower and the chance for sunshine breaking out will be higher, temperatures will reach up into the 70s!
Monday is a bit tricky and again we will see temperatures depend on location and there will be a wide spread from north to south as far as high temperatures are concerned. Another storm system heads northeast across the Ohio Valley and into New England. This one comes closer but we may not see much in the way of rain until the low gets into upstate NY.
This will leave us rain free until late afternoon in Eastern Pennsylvania and until evening along the coast as showers ahead of a cold front move eastward. Depending on how much sun can break through the clouds on Monday, temperatures will reach the 70s again across Southern New Jersey and Southern Pennsylvania southward however north and east of there we will likely see highs in the 50s and 60s.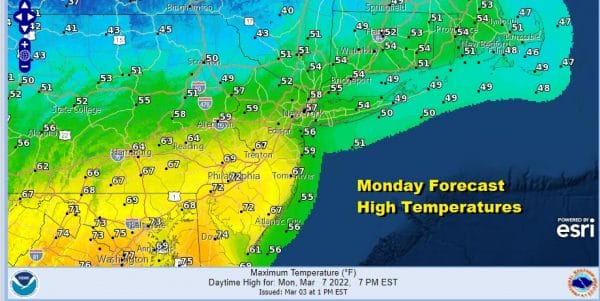 The active weather pattern continues next week. We have a low that will pass to our south Tuesday night into Wednesday and rain from this system for now looks to pass south. Late week brings a stronger storm system into the east and another one follows after that around March 15th-16th. That one could wind up being an important storm system so we will watch how that evolves. Also we have very cold air likely to come in behind both those systems. March is known for volatility and we are likely to see it develop after a quiet start to the month.
Please note that with regards to any severe weather,  tropical storms, or hurricanes, should a storm be threatening, please consult your local National Weather Service office or your local government officials about what action you should be taking to protect life and property.