Weekend Weather Mixed Conditions This Weekend As Temperatures Move Higher

Weekend Weather Mixed Conditions This Weekend As Temperatures Move Higher

The weekend is underway and we have some high clouds around as warmer air begins to move northward. Temperatures today are going to have a wide spread depending on location ranging from mid 40s to mid 50s. The further south you are, the more sun you will see and the higher the highs. 40s will be the storm from NYC north, northwest and northeast, while 50s will be the story from Philadelphia south and west. Let's call the day partly sunny to mostly cloudy from the standpoint of sky conditions and no rain is forecast.
SATELLITE

WEATHER RADAR

Some precipitation is showing up aloft on the radar to the west and north and this is due to a warm front setting up well to our north. This is going to allow things to warm up nicely with lows not as low tonight as in recent nights in the mid 30s to lower 40s. This sets up a nice launching pad for Sunday.
We have actually raised the forecast highs for Sunday to low to mid 70s across much of the area with 60s to near 70 to the east and northeast into Southern New England. There might be clouds and a couple of showers scattered around Sunday morning but we will have developing sunshine and a west wind Sunday afternoon and that will send temperatures soaring.
The cold front to the west barely makes it here and than backs northward on Monday as the next low comes out of the Plains and heads to the Ohio Valley and then New England. Much of Monday should be dry but some showers will come in late in the day and continue Monday night. Highs Monday again will be in a bit of a wide range. For Southern New England and Long Island we are going to see mid 50s to lower 60s while most everyone else will be in the upper 60s to middle 70s.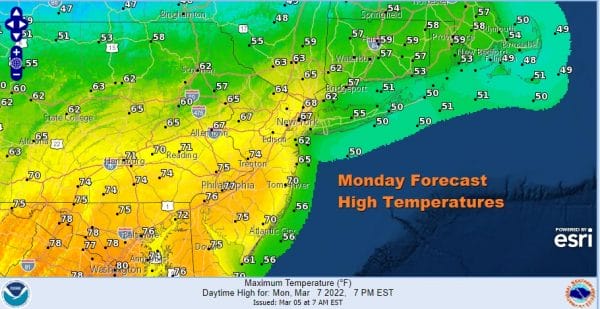 Tuesday brings us improving weather conditions before we get to Wednesday. It will be colder into Wednesday but it is not a shot of arctic air. A wave on Tuesday morning's cold front could bring a chilly rain here later Wednesday with a low offshore. There might be another system to deal with next weekend but there is much uncertainty in the long range. We will address the more later today.
Please note that with regards to any severe weather,  tropical storms, or hurricanes, should a storm be threatening, please consult your local National Weather Service office or your local government officials about what action you should be taking to protect life and property.