Weather Fronts Struggling Snow Christmas Eve Night

Weather Fronts Struggling Snow Christmas Eve Night
We are waiting for a wave of low pressure to move to the northeast. Weather fronts are struggling this evening with a warm front having a very difficult time moving  northward while the cold front to the west is taking its sweet time moving east. Temperatures are in a wide range from the low 60s in Southern New Jersey to the low to mid 30s across the Hudson Valley and inland Connecticut.
SATELLITE LOOP

There are still some showers to work through on the radar as they are swinging to the east northeast. Low pressure is forecast to finally move north later this evening and this should bring an end to the showers. It will also bring temperature down into the 30s behind it. Inland areas could see lows in the 20s and some black ice might develop in some areas.
REGIONAL RADAR

LOCAL RADAR NEW YORK CITY
LOCAL RADAR PHILADELPHIA

Christmas Eve will be cloudy and cold with temperatures holding in the 30s. Low pressure is forecast to develop just ot our south as energy comes in from the west. We will see precipitation develop in the evening. With the low tracking ever so close to the coast and the air over is borderline, it appears it will be a mix or rain along the coast and snow inland. Precipitation will be over by daybreak Monday. I'm making no real changes to more forecast for snow. From just west of Philadelphia to just west and north of NYC to about Boston..those areas to the northwest of this line will see some snow of varying amounts.
SNOW FORECAST NAM MODEL THROUGH TUESDAY NIGHT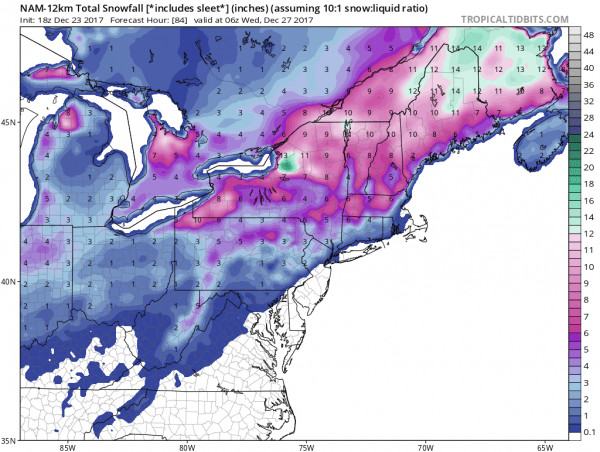 The NAM model snowfall forecast seems a bit overdone but it probably has the line of snow and no snow fairly close to correct. A couple of inches of snow will fall north and west of that line.
Once this system moves out prepare for a cold week ahead as a big high builds to our north. Temperatures all next week will be below average and we could see several days of highs just in the 20s with lows down in the single digits and low teens Wednesday and Thursday. Weather models are still on course for the chance for snow late next week. For now Christmas comes first and lets enjoy the Christmas holidays. Merry Christmas to all.

GET JOE A CIGAR IF YOU LIKE 
FiOS1 News Weather Forecast For Long Island
FiOS1 News Weather Forecast For New Jersey
FiOS1 News Weather Forecast For Hudson Valley
LATEST JOESTRADAMUS ON THE LONG RANGE