Very Warm To Hot Through Saturday Only A Few Chances For Thunderstorms
The warm front is moving through from west to east and we are completing the transition to a very warm to hot pattern over the next 4 days. During this stretch thunderstorm chances will be kept to a minimum. The best chance for scattered thunderstorms will be Wednesday evening as an upper trough comes through, Friday night as another upper trough moves through, and then Saturday night into Sunday morning as a cold front passes. Between all this it will be humid though it will be more humid on some days verses others.
SATELLITE

REGIONAL RADAR

The heavy downpours from this morning are now moving through Eastern New England. There is nothing behind it so we shouldn't have any issues this evening or overnight as skies partially clear. The satellite picture above shows dry and and clouds thinning out to the west.
LOCAL RADAR NEW YORK CITY
LOCAL RADAR PHILADELPHIA

Wednesday looks to be a very warm day with temperatures in the mid 80s with hot spots around warmer urban centers close to 90. Dew points will be down in the lower 60s or even near 60 which means it won't be too uncomfortable. Wednesday evening brings a weakening cold front/trough through the area so some pop up thunderstorms are possible mainly inland.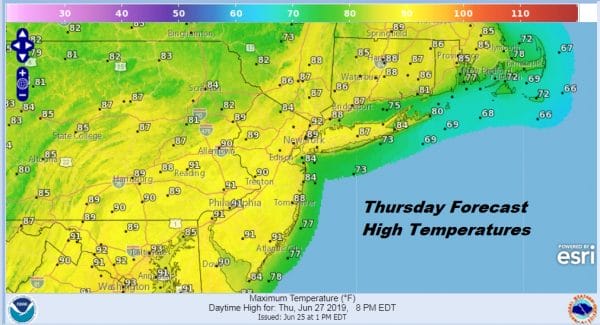 Thursday looks mainly sunny and very warm to hot with highs in the 80s to near 90. Dew points will be in the lower 60s which is going to somewhat uncomfortable but not overly so. No thunderstorms are forecast for Thursday. Friday will be a very warm to hot day and humd day with some sunshine. Thunderstorms could threaten in the evening as another upper trough moves through.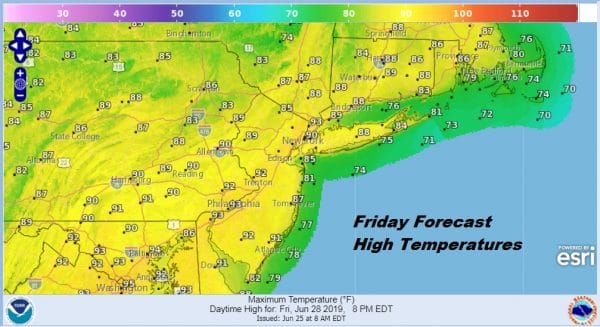 Saturday will be the hottest day of the stretch with most highs in the low 90s. Then we bring in the chance for thunderstorms Saturday night as a cold front passes through. Another front follows on Sunday that will bring in slightly cooler and less humid air for Sunday and Monday.
There are no real changes in the outlook for next week at least for now. Monday will be nice and dry with sunshine. Tuesday we could warm up a bit with some sunshine as we wait for another cold front that will come through late Wednesday with a shower or thunderstorm followed by another shot of dry nice air from Canada for Thursday July 4th & Friday.
The jet stream next week has us in a rather good spot. There is a trough off the East Coast and along the West Coast. Hot weather will be in the Plains. Our air flow is coming out of Eastern Canada which this time of year is a nice dry flow of slightly cooler than average air that comes into the Northeast and the Northern Middle Atlantic States. That trough will pull out but another one replaces it mid week.
Another cold front will come through on Wednesday leaving us dry and nice for Thursday July 4th and Friday. Nothing is written in stone yet but the trough wants to be in the East or just off the East Coast which puts us in a good spot for reasonable summer weather should it verify. In the long range, It does look like the trough wants to stay in the East for awhile which if true, will keep hot weather to a minimum and only in between cold fronts.
MANY THANKS TO

TROPICAL TIDBITS

FOR THE USE OF MAPS
Please note that with regards to any tropical storms or hurricanes, should a storm be threatening, please consult your local National Weather Service office or your local government officials about what action you should be taking to protect life and property.