Great Summer Weather Next 3 Days Very Warm But Not Very Humid
We are at the start of a great 3 day stretch of weather. Over the next three days it will be sunny and very warm to borderline hot. By that I mean temperatures will get close to 90 degrees in hot spots. However humidity levels will be moderate and reasonable through Friday so it will be comfortable enough. Thunderstorm threats will minimal and of the pop up isolated variety. We have a chance this evening in a few spots and again Friday night but little or no chance on Thursday.
SATELLITE

REGIONAL RADAR

With radars and satellites all showing how nice it is outside we put it in cruise control into Saturday. Sunshine dominates much of the rest of today with highs in the 80s to near 90 in the warmest urban settings. It will be a little cooler at the beaches. Tonight is nice and clear after any evening pop up thunderstorm with lows in the 60s to near 70.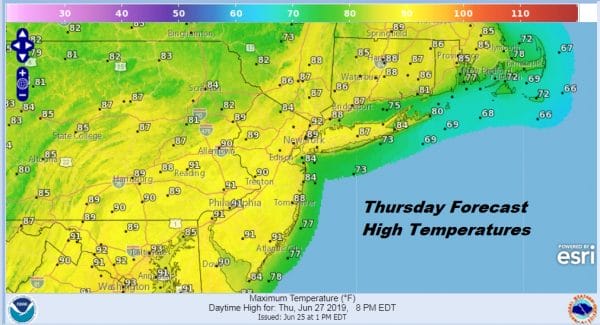 Thursday looks great with sunshine and moderate humidity with highs in the 80s to near 90, cooler at the shore and little if no chance for pop up showers or a thunderstorm. Friday again sunshine with highs in the 80s to near 80. There might be a better chance for a thunderstorm Friday night as an upper air disturbance moves through.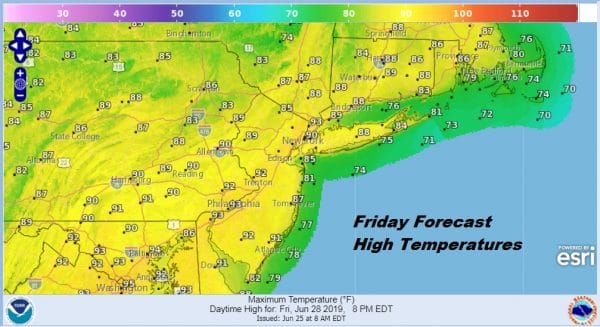 Saturday will be the one day that humidity will get very high and it will be uncomfortable. Highs will be in the 80s to near 90. Thunderstorms are possible Saturday night as a cold front passes. We will see a strengthening northwest flow over the weekend and into next week and this is going to bring dry Canadian air into the Northeast and Northern Mid Atlantic States for Sunday and into next week.
This jet stream pattern will mean most days will see low humidity, sunshine and temperatures in the upper 70s to mid 80s for highs. It will also be mostly dry except for when cold fronts pass through. One is due Saturday night. Then next one comes on Tuesday at some point so thunderstorm chances will be confined to short time periods. Right now I expect to see some decent weather for Wednesday Thursday (July 4th) and Friday with no serious issues though at some point another cold front is likely to approach and pass through. We will be getting more specific on next week in the coming days.
WEATHER IN 5, 5 DAYS IN 5 MINUTES!
MANY THANKS TO

TROPICAL TIDBITS

FOR THE USE OF MAPS
Please note that with regards to any tropical storms or hurricanes, should a storm be threatening, please consult your local National Weather Service office or your local government officials about what action you should be taking to protect life and property.