DOWNLOAD MY NEW FREE JOESTRADAMUS WEATHER APP FOR ANDROID
THE APP IS ABSOLUTELY FREE TO ALL BUT CONSIDERING SUBSCRIBING TO PATREON FOR A WEATHER EXPERIENCE FREE OF ADS, EXCLUSIVE VIDEOS FOR MEMBERS ONLY AND MUCH MORE…STARTS AT $2 A MONTH..MESSAGE ME AT ANY TIME

Snow Overnight Monday Morning Dry Cold Christmas Day
We start the eve of Christmas Eve with sunshine though there are a few patchy clouds in the mix. Overall a nice day is in store with temperatures which are in the 30s  this morning. We should reach into the 40s this afternoon. There really isn't very much going on today from the standpoint of rain or snow anywhere in the Northeast. This is another heavy travel day as folks head for their Christmas destinations and there should be no weather issues today.
EASTERN SATELLITE

REGIONAL RADAR

Now we look ahead to tonight as we watch an upper air disturbance swinging out of the Great Lakes. Weak low pressure develops off the Delaware coast and heads out to the East. Given what is going on with the strength of the upper air trough, this system produces a strip of two to three tenths of an inch of liquid. This would suggest a coating to an inch or two in a band just north and west of the red line on the NAM map below. This is for 4am Monday morning.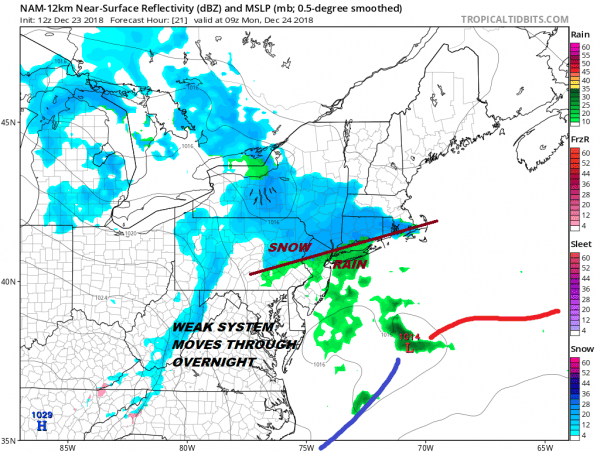 This should be mostly over around 7 or 8 am from NYC west. I might go a bit longer east of NYC across Connecticut into midday. I don't think it makes much difference in totals. It is a coating to an inch or so for most places. Some areas north of Route 84 will see an inch or two. Weather conditions gradually improve Monday as colder dry air takes over. Monday night will be nice and clear with lows in the 20s to near 30. Tuesday Christmas Day will be mostly sunny with highs mostly in the 30s.  The next weather system is not likely to have impact here until the end of the week so we will be dry Wednesday and Thursday. It should warm up and rain by the end of the week as cold air will not be able to hang in.
MANY THANKS TO

TROPICAL TIDBITS

FOR THE USE OF MAPS
Please note that with regards to any tropical storms or hurricanes, should a storm be threatening, please consult your local National Weather Service office or your local government officials about what action you should be taking to protect life and property.