High Wind Warning Storm Warning
High Wind Warning
Storm Warning
You don't see STORM WARNINGS up for the coastal waters too often but indeed we have this situation for tonight and Sunday. The first thing we need to get through is today's rain as low pressure moves up the east coast. Last night's cold front has stalled out and a wave is moving along it. Now the system that is going to become a storm just east of Long Island Sunday morning is completely separate from this wave which is moving out way ahead of it. Had the timing been a little different, this tropical moisture would have gotten involved with the diving energy to the northwest. This probably would have made for some snowstorm. Instead the system for overnight will be filled with energy but relatively moisture starved. The satellite loop shows the two systems and how separated they are. Timing is always critical. Nonetheless there will be an extremely tight pressure gradient setting up for Sunday morning. Gusts to hurricane forecast just offshore would not at all be a surprise.
High Wind Warning Storm Warning
Satellite Loop
High Wind Warning Storm Warning
Radar Loops

Radar shows the rain moving northeast and it will be tapering off and ending from west to east as we go into and move through the afternoon. Then we sit back and wait for the main storm to develop tonight. Winds are forecast to increase a little faster and will probably start gusting up around midnight or so and then really get going during the early morning hours.


With the strong upper air storm moving overhead, a burst of snow is possible overnight and there could be a brief blinding squall in some places. Snow accumulation if any should be on the order of a coating to at most an inch or so. With gusts to 50 mph that snow is likely to be blown around all over the place if you get into a heavier snow shower.
High Wind Warning Storm Warning
Snowfall Forecast
As we move through Sunday winds will be slowly coming down late in the afternoon and Sunday night as the next weather system approaches. Temeperatures tonight will fall into the 30s and even some 20s north and west of the coast. Temperatures Sunday are not going anywhere with highs into the 40s at best.
Monday brings the next weather system and it will be wet snow and some rain but I can't get too excited about a system that is going to be moving through here during the day Monday. In fact some snow could be hear before daybreak Monday but much of what falls during the day will be either rain or a wet snow/rain mix. It might go back to some wet snow Monday evening before ending. Monday's temperatures will be in the 30s to lower 40s.
Very cold air follows Tuesday into Wednesday morning with temperatures Tuesday in the 30s and Tuesday night we will see lows in the 20s and even teens.
FiOS1 News Weather Forecast For Long Island
FiOS1 News Weather Forecast For New Jersey
FiOS1 News Weather Forecast For Hudson Valley
LATEST JOESTRADAMUS ON THE LONG RANGE
Weather App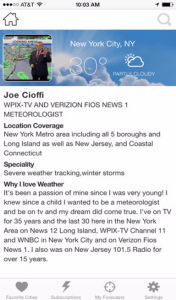 Don't be without Meteorologist Joe Cioffi's weather app. It is really a meteorologist app because you get my forecasts and my analysis and not some automated computer generated forecast based on the GFS model. This is why your app forecast changes every 6 hours. It is model driven with no human input at all. It gives you an icon, a temperature and no insight whatsoever.
It is a complete weather app to suit your forecast needs. All the weather information you need is right on your phone. Android or I-phone, use it to keep track of all the latest weather information and forecasts. This weather app is also free of advertising so you don't have to worry about security issues with your device. An accurate forecast and no worries that your device is being compromised.
Use it in conjunction with my website and my facebook and twitter and you have complete weather coverage of all the latest weather and the long range outlook. The website has been redone and upgraded. Its easy to use and everything is archived so you can see how well Joe does or doesn't do when it comes to forecasts and outlooks.
Just click on the google play button or the apple store button on the sidebar for my app which is on My Weather Concierge. Download the app for free. Subscribe to my forecasts on an ad free environment for just 99 cents a month.
Get my forecasts in the palm of your hand for less than the cost of a cup of Joe!
MENTION JOE CIOFFI AND GET A 5% DISCOUNT