Heading Into The Dog Days of August
Heat Humidity On The Way Weekend & Next Week

Weather in 5/Joe & Joe Weather Show Latest Podcast
Heading Into The Dog Days of August
Heat Humidity On The Way Weekend & Next Week
West of the coast it has been a very nice day as clouds have pulled out but you can see on the satellite that some places to the east across Southern New England and Long Island still have some work to do as far as clearing is concerned. But for everyone else in New Jersey Pennsylvania and points southward (as well as points northward into Upstate NY) it is an afternoon of sunshine and some passing clouds as temperatures finish up mostly in the lower 80s. The radars are quiet and there are no radar issues at least into the first part of Saturday.
SATELLITE

Tonight will be mostly clear with lows in the 60s except near 70 or lower 70s in warmer urban locations. Friday will be a day of sunshine and some clouds. It will be warm and it will also be more humid. The frontal boundary to the east will weaken and allow an Atlantic high to build westward Friday and Saturday. Friday highs will be in the upper 80s to lower 90s except a little cooler at the shore.

Saturday starts out with sunshine but there will be a disturbance moving northward up the coast that will bring some clouds from the south later in the day. Highs will be a little lower Saturday but still very warm and humid. Most highs will be shy of 90 degrees and finish in the mid to upper 80s.
Saturday night into Sunday morning this disturbance will move north and then turn northeast. We could see some showers or a few downpours Saturday night into early Sunday morning but then it should move offshore and we then go from clouds to developing sunshine, very warm and humid conditions for Sunday afternoon. Highs Sunday will be in the mid 80s to near 90 degrees.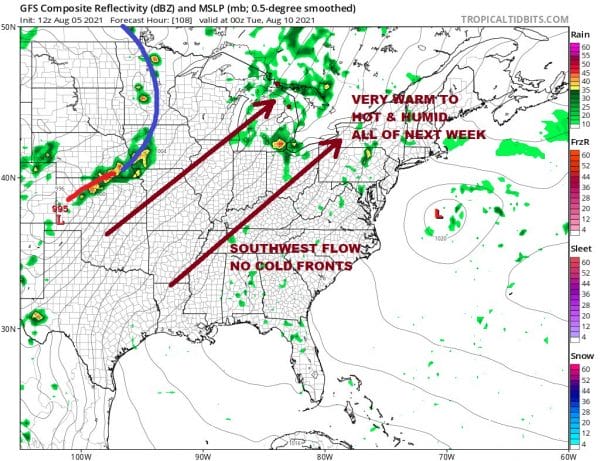 Next week we will have the August Dog Days in full force. A ridge along the East Coast will keep cold fronts away all week long with just small chances for scattered pop up showers and thunderstorms. Most days highs will be in the mid 80s to near 90. Tuesday and Wednesday probably wind up being the hottest days next week with highs reaching into the 90s away from the ocean. The next cold front doesn't arrive until Friday and it isn't much of a cold front at that. If you are a fan of heat and humidity, this is your week!

Please note that with regards to any severe weather,  tropical storms, or hurricanes, should a storm be threatening, please consult your local National Weather Service office or your local government officials about what action you should be taking to protect life and property.