Brutal Heat Humidity Combination Evening Storms Some Severe

Weather in 5/Joe & Joe Weather Show Latest Podcast
Brutal Heat Humidity Combination Evening Storms Some Severe
Skies are wide open sunny as we head into the afternoon and this going to be a brutally hot and humid day. The combination of heat and humidity will send temperatures in the mid to upper 90s. Some places will touch 100. Even the shore will see temperatures well up into the 80s so standing in the water may be the only way you get cool. Heat indices will be 105 or higher in many places and some could see indices break over 110!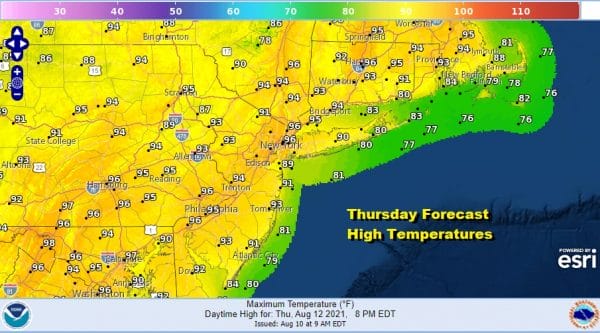 The daytime heating and the dew points well into the 70s has created a very unstable atmosphere the last 2 days and today will be no different. Thunderstorms will develop again late today and will tend to favor inland areas more than coastal areas. The Storm Prediction Center is indicating a marginal risk for severe weather this afternoon for much of our area.
The satellite picture shows the next disturbance to our west where we are already seeing the beginnings of thunderstorms for later today. This area will push east but skies are clear ahead of it so temperatures will soar until those storms approach late today.
SATELLITE

Local and regional radars should be monitored for development. As always with thunderstorms picking out where the activity is going to set up is a challenge. The last two days dew points were a good indicator of where the strongest storms would be. Today dew points are high everywhere so that puts all areas at risk but it doesn't help figuring out exactly where the thunderstorms will be. The best approach is to watch the radar.
WEATHER RADAR


Once any storms are done we have a very warm and humid night with most lows in the 70s and warmer urban areas could have a tough time breaking under 80 degrees. Friday will be another brutally hot day with sunshine taking highs into the mid and upper 90s for what should be the last time in this stretch.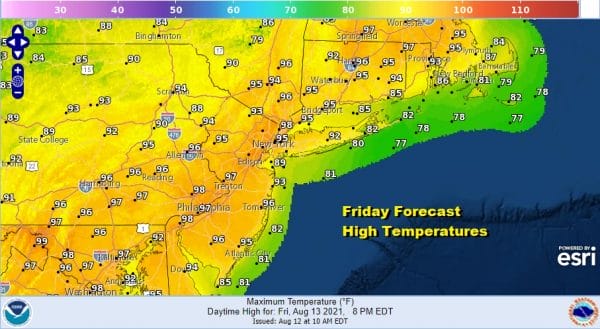 Late in the day thunderstorms will develop and once again we have much of the area at a marginal risk for severe weather. We could see this elevated to slight risk in later Storm Prediction Center forecasts. A cold front will pass through and offshore which will put an end to the extreme heat. Saturday we will see sunshine and it will be very warm with highs in the mid 80s to near 90 degrees.
Another front will move through around midday Saturday and this should bring welcomed dew point relief and a cooler high pressure cell builds in for Sunday and Monday. Dew points will drop to the lower 50s and even the 40s in some areas. Sunday will be a sunny but cooler day with highs in the lower 80s.
Humidity will start to come as next week wears on and it looks to be a very warm and humid second half to next week with chances for showers and thunderstorms along the way. We will be watching what is going on with now Tropical Depression Fred as the surviving system makes its way toward Florida this weekend.

Please note that with regards to any severe weather,  tropical storms, or hurricanes, should a storm be threatening, please consult your local National Weather Service office or your local government officials about what action you should be taking to protect life and property.