Winter Predictions (in case you missed it) And A Weekend Prediction
In case you missed it my winter forecast for 2015-2016 is up with my winter predictions.
The next change in the weather of importance doesn't come until later this week with an approaching cold front. One of the issues regarding the overall pattern is the ridge that is in the eastern states. It is so strong that any disturbance that moves into it gets weakened. As a result the weather systems coming east really don't have much to work on. The next front will have some moisture with it initially but once it gets to the east all the moisture is effectively squeezed out and shunted northeastward so the fronts come through dry.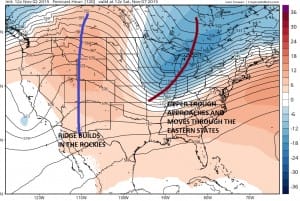 Before the next front comes through for the weekend, we still have Tuesday through Friday to get through.  Warm temperatures  will be with us for the rest of the with lower 70s for both Tuesday and Wednesday. The issue for Thursday and Friday we will have an onshore low and we mentioned yesterday the possibility of low clouds coming in for both Thursday and Friday. Some drizzle may come into the mix in a few places on Thursday and Friday as well though inland areas may have more breaks of sun in the mix. After Friday colder air comes in for the weekend where we should see Saturday and Sunday temperatures back into the 50s both days and nights will be in the 30s to near 40 both Saturday night and Sunday night.
Longer term the pattern becomes a little obscure as there are going to be several disturbances running around and the outcome is unclear. Also in the mix is the fact that the gfs model has something coming out of the tropics which seems a little far fetched given the season but not out of the question given climatology.