Weather models seem to be zeroing in on more activity and they are also a little more in line today at least with regards to the gfs model and the canadian model. Im not 100 percent sure where this is all going to lead to but you have to have an active pattern in order to actually have things happen and it will definitely be a switch to what we  are in now.  First off nothing of consequence will be occurring in the short term. We have 2 cold fronts with the first one coming through Thursday evening with nothing more than a passing shower, if that! Then it turns cooler for Friday and into the weekend as temperatures go from the 70s Thursday to the mid 50s to near 60 Friday and lower 60s on Saturday. The next front is due Saturday evening with also not much with it other than a passing shower and Sunday looks cooler. That front appears to be moving just a little bit faster so Sunday should cool off back into the 50s for highs.
Once we get through the second front the stage is set for something more of consequence to happen during the middle part of next week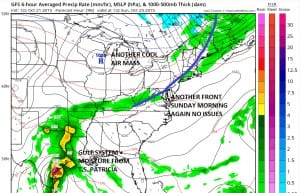 The upper air flow is going to become a bit more dynamic during next week. As each model run shifts and changes I am trying to get a grasp of which way this is all going to go. The GFS today wraps a system up pretty far to the left.
This would imply a deep low to the western Great Lakes with a trailing cold front. It should be interesting to see whether the gulf moisture from what could be Pacific Tropical Storm Patricia gets involved somehow. This would be for a week or so from today. The overall flavor for next week appears to be near normal temperatures on average with some small swings in either direction. Precipitation could be normal or even a little above normal for the week. Later this afternoon I will take a look at the European model and the full Canadian model to see where this is all going to go.
Be sure to download my weather app and subscribe to my forecasts. The app is free and a subscription is just 99 cents a month. You get my forecasts plus key posts will be on the app several hours earlier than on the website. Available for android and I Phone.