Weather Improves West To East Quiet Week
Larry Passes East As Cold Front Moves Through Wednesday

Weather in 5/Joe & Joe Weather Show Latest Podcast
Weather Improves West To East Quiet Week
Larry Passes East As Cold Front Moves Through Wednesday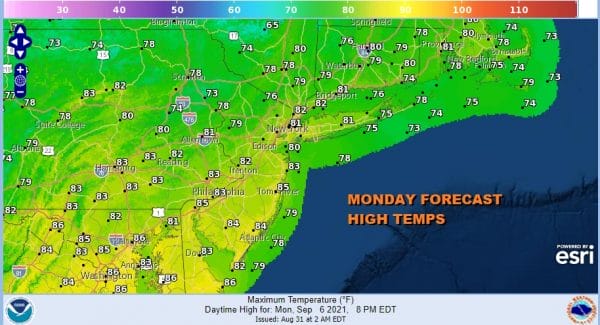 Sunday's cold front is taking a little longer to move offshore but weather conditions have improved across Pennsylvania and most of New Jersey as well as Southern New England. The remainder of the area follows and it should be partly to mostly sunny everywhere by midday and early afternoon if it isn't already. Highs today will reach the upper 70s to lower 80s, and humidity levels are reasonable. It wasn't a perfect holiday weekend but 2 out of 3 isn't too shabby.
SATELLITE

Radar shows rain sliding eastward and offshore on both the local and regional views. There is nothing going on to the northwest or west and we can put the radars on hold until late Wednesday when the next front approaches.
WEATHER RADAR


A dry mass building in isn't too much different from the dry air mass that followed Ida so we will see clear skies tonight. Lows will be in the mid 50s to lower 60s. Tuesday looks to be nice and sunny with comfortable humidity levels. Highs will reach the lower 80s except for 70s along coastal areas.

Wednesday will be the one day during the work week that we may have some showers and thunderstorms around but the risk is late in the day or Wednesday evening and right now it doesn't appear that these storms will be producing an area wide severe weather risk. We will see sunshine ahead of the front with highs in the 80s. The front goes by with the chance for thunderstorms in the evening and then we move on to the end of the week.
The front moves offshore and stalls but it does so far enough east so that at least initially, there are no issues. It is also far enough east that Hurricane Larry passes east of Bermuda by a distance that keeps the island out of the core of the storm. So we move on to sunshine for Thursday and Friday with highs both days in the mid to upper 70s with low humidity and nights in the 50s to lower 60s. You may notice that the GFS loop above takes disturbed weather now moving into the Gulf of Mexico and develops a low off the Southeast Coast. It then rides that low up the East Coast next weekend.
A deep trough coming into the Northeast Picks up Hurricane Larry and takes it out to the northeast. As that upper trough lifts out it leaves a little trough behind in the Tennessee Valley. It isn't much but enough to ride a low up the coast. However we aren't even sure how real this is as not all the models are showing this and upper air conditions are not exactly screaming tropical storm development. For now we will be optimistic that the weekend will be dry as a wave possibly passes to the east and will leave it at that.

Please note that with regards to any severe weather,  tropical storms, or hurricanes, should a storm be threatening, please consult your local National Weather Service office or your local government officials about what action you should be taking to protect life and property.