Warm Sunday Ahead of Cold Front Onshore Flow Most of Week Ahead

Weather in 5/Joe & Joe Weather Show Latest Podcast
Warm Sunday Ahead of Cold Front Onshore Flow Most of Week Ahead
We have come to the warmer second half of the weekend which is going to be slightly more problematic than the first. We have an approaching cold front from the northwest but this front is taking its time reaching us. High pressure has moved off to the south and a warm west to southwest wind will take temperatures to the upper 70s and lower 80s this afternoon. Most of the rain on the regional radar is in Western Pennsylvania and Western and Northern NY and it will take all day along just to shift a little to the southeast. Overall today will be partly sunny or no worse than that and highs will reach the upper 70s and lower 80s.
SATELLITE

WEATHER RADAR

Tonight we will see some showers come in after midnight in most places and they will continue on and off on Monday into Monday evening. It isn't a widespread type of rain so there will be breaks in between and some areas will see more than others. It will also be cloudy to partly sunny in between any showers with highs in the 70s to near 80 degrees.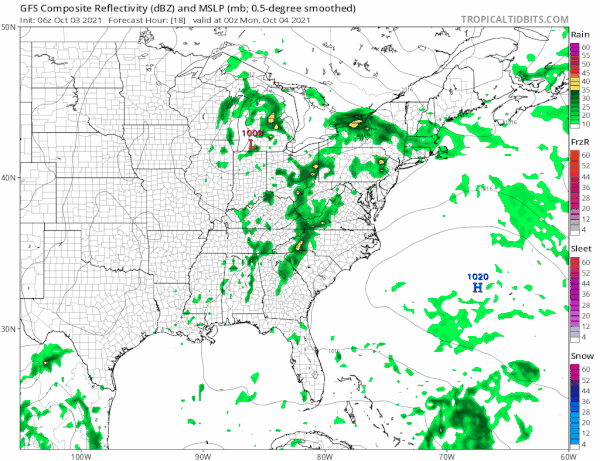 Tuesday through Friday it is all about high pressure building into the Northeast and creating an onshore flow that stays all week long. While the flow from the northeast and east will have some moisture with it, it shouldn't be enough to cause serious issues. I would describe each day on the order of cloudy to partly sunny conditions. There is the odd chance of a passing shower or some drizzle coming in from the east and the main threat from that would be long the coast. Daytime highs will be in the upper 60s along coastal areas and low to middle 70s inland. It is a quiet weather pattern that is setting up this week which is so typical of October where long stretches of the weather being a non event is quite common. Also the tropics are quieting down now that Hurricane Sam is finally moving away to the northeast and we may go an entire week without a tropical system to concern ourselves with.

Please note that with regards to any severe weather,  tropical storms, or hurricanes, should a storm be threatening, please consult your local National Weather Service office or your local government officials about what action you should be taking to protect life and property.