Sunshine Day 6 Dry Monday Rain Tuesday Into Wednesday
SHOP THE JOESTRADAMUS STORE
Sunshine Day 6 Dry Monday Rain Tuesday Into Wednesday
We begin another day of sunshine which makes it the 6th day in a row of nice weather though we are going to begin to see a change int eh quality of the air mass as the humidity starts to inch up a bit over the next 2 days. There isn't much cloud cover to speak of in the East though there are some patchy clouds around. To the west the next cold front is firing up showers and thunderstorms across the Mississippi Valley and that is the front that will begin to get close on Tuesday. In the meantime enjoy today with highs in the 70s and reasonable humidity. Tonight should start clear but some low clouds will probably develop with lows in the mid 50s to lower 60s.
SATELLITE LOOP

REGIONAL RADAR

Nothing much is happening radar wise today or tonight but we may start to see some sprinkles showing up on Monday though widely scattered. Monday we will see a mix of sun and clouds with highs in the 70s. Then clouds will thicken up Monday night and the rain arrives Tuesday as the cold front moves toward the coast.
GFS FORECAST SURFACE MAP TUESDAY EVENING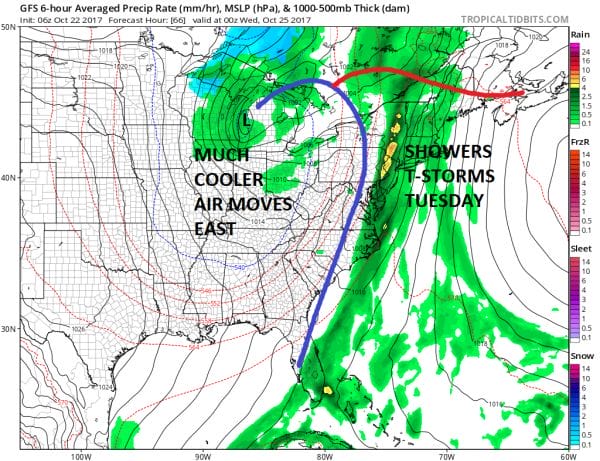 This front should pass off shore Wednesday morning but it will be slow moving. Rain and showers could linger along the coast for awhile until a second wave of low pressure develops and takes the front out to the east. Weather models have actually gotten a little more bullish regarding rainfall amounts.
GFS RAINFALL FORECAST THROUGH WEDNESDAY EVENING
Latest model runs suggest a stripe of 2 to 3 inch rains are possible and that would depend on who gets under any heavier thunderstorms that develop on Tuesday. In fact the Storm Prediction Center has us under a marginal risk for severe weather on Tuesday primarily due to heavy rain.
Once this front plays through the first of several shots of colder air will be coming down out of Canada. Each one will be colder than the prior but there could be brief warm ups in between as each cold front approaches. Thursday into Saturday look dry with the next front and the next round of rain next Sunday.
The pattern is changing but that does not mean it changes to continuous cold. This is not the dead of winter yet. JOESTRADAMUS has more on this in his latest long range post.

GET JOE A CIGAR IF YOU LIKE 
FiOS1 News Weather Forecast For Long Island
FiOS1 News Weather Forecast For New Jersey
FiOS1 News Weather Forecast For Hudson Valley
LATEST JOESTRADAMUS ON THE LONG RANGE