Active Weather Pattern Developing Eastern US
Active Weather Pattern Developing Eastern US
After a sixth consecutive day of great weather we are about to see weather conditions deteriorate as the weather pattern across North America changes in the next 2 weeks. We still have one more day of reasonable weather with clouds and some sunshine on Monday with highs in the 70s. After that a series of weather systems swinging out from the west will begin to have impact with the first Tuesday into Wednesday. A strong cold front heads our way and it will be very slow moving once it reaches the coast. This will set us up for a narrow slow moving band of heavy rain Tuesday night into Wednesday.
GFS WEATHER MODEL TUESDAY OCTOBER 24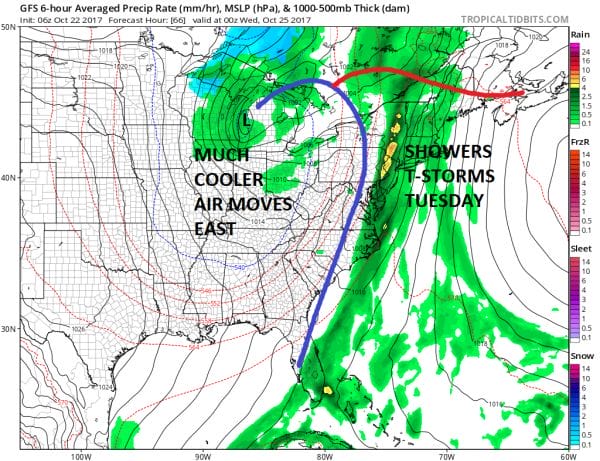 NAM WEATHER MODEL RAINFALL FORECAST THROUGH WEDNESDAY
Depending on how these bands of rain set up and how strong any thunderstorms are ahead of the cold front, there could be a generous 2 inch plus rainfall for much of the area from Eastern Pennsylvania to Southern New England. The rain may take awhile to reach the coast on Tuesday where strong south winds will develop with gusts of 30-40 mph. The front may take all day Wednesday to clear the coastline so some showers are still likely especially from NYC eastward.
GFS FORECAST 2PM TEMPERATURES THURSDAY OCTOBER 26, 2017
Thursday we will be behind the front as the first of several shots of cold air move in and out. Temperatures Thursday will be in the mid 50s to lower 60s for highs with clouds and some sun. Friday looks dry and seasonal and Saturday we may warm up a bit as the next strong cold front approaches and this is where weather models get rather interesting for next weekend.
GFS WEATHER MODEL MONDAY OCTOBER 30 2017
EUROPEAN WEATHER MODEL MONDAY OCTOBER 30, 2017
The European & GFS model both have troughing in the East developing next weekend into the last days of October. The difference in the two models is that the GFS has one phased trough that swings through. This would bring another strong cold front through with the threat for heavy rains next Sunday and Sunday night followed by colder air for Halloween and a few days beyond. The GFS develops a tropical system in the NW Caribbean and rides it east northeast into the Atlantic.
EUROPEAN SURFACE FORECAST MONDAY OCTOBER 30 2017
The European however is more complicated. The trough is unphased with a strong southern stream  system. This then gets complicated further on the European as it develops low pressure in the Northwest Caribbean (possibly tropical?) and then rides it up the Eastern Seaboard as a heavy rain and wind event late Monday into Tuesday. Either way it means a widespread rainfall but clearly the European's view of this is far more complex. At the very least this pattern change means opportunities for substantial rainfalls in the next couple of weeks. Temperatures will be swinging back and forth as cold fronts come and go. Clearly more volatile times are ahead. With pressures low in the Caribbean the possibility of some sort of tropical influence in all of this exists.
MANY THANKS TO TROPICAL TIDBITS FOR THE WONDERFUL USE OF THE MAPS
GET JOE A CIGAR IF YOU LIKE!
FiOS1 News Weather Forecast For Long Island
FiOS1 News Weather Forecast For New Jersey
FiOS1 News Weather Forecast For Hudson Valley
NATIONAL WEATHER SERVICE SNOW FORECASTS
LATEST JOESTRADAMUS ON THE LONG RANGE
Weather App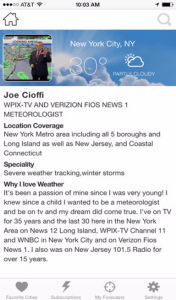 Don't be without Meteorologist Joe Cioffi's weather app. It is really a meteorologist app because you get my forecasts and my analysis and not some automated computer generated forecast based on the GFS model. This is why your app forecast changes every 6 hours. It is model driven with no human input at all. It gives you an icon, a temperature and no insight whatsoever.
It is a complete weather app to suit your forecast needs. All the weather information you need is right on your phone. Android or I-phone, use it to keep track of all the latest weather information and forecasts. This weather app is also free of advertising so you don't have to worry about security issues with your device. An accurate forecast and no worries that your device is being compromised.
Use it in conjunction with my website and my facebook and twitter and you have complete weather coverage of all the latest weather and the long range outlook. The website has been redone and upgraded. Its easy to use and everything is archived so you can see how well Joe does or doesn't do when it comes to forecasts and outlooks.
Just click on the google play button or the apple store button on the sidebar for my app which is on My Weather Concierge. Download the app for free. Subscribe to my forecasts on an ad free environment for just 99 cents a month.
Get my forecasts in the palm of your hand for less than the cost of a cup of Joe!