Strong Blocking Pattern Emerges Long Range
Strong Blocking Pattern Emerges Long Range
While weather models in the long long range tend to change radically at times, what we have seen in the last week has been rather remarkable. Day after day models continue to point strongly at a blocking pattern developing in the Atlantic. There has been no change in that today. In fact overnight weather model ensembles have show the blocking pattern to be even stronger with every run.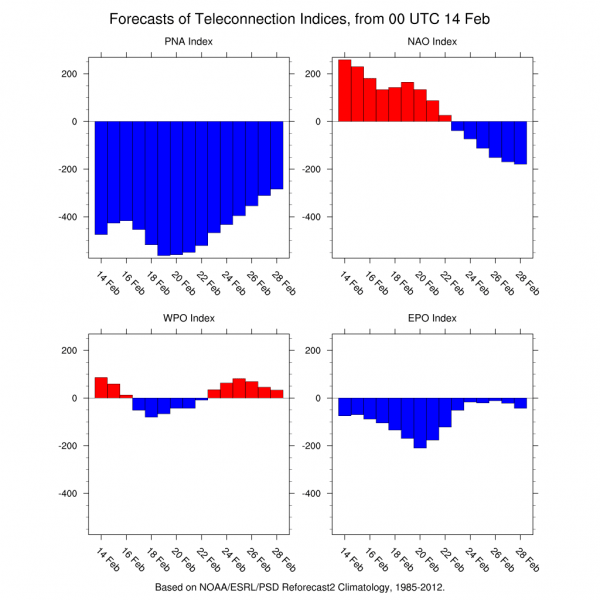 The North Atlantic Oscillation which right now is showing strong positive values is about as unblocked as you can get. Weather systems move from west to east. As snow lovers know everything in the upper atmosphere is in the wrong place. The ridge in the Gulf of Alaska has been a huge problem as that creates a ridge off the Southeast coast of the US and that means warmer than average temperatures overall. In fact the only way it snows is if cold air times out perfectly with some sort of disturbance. We have this at play for later Saturday into Sunday. Other than that at least through the middle of next week, it will feel more like April than mid February.
GFS JET STREAM TUESDAY FEBRUARY 20 2018
The upper air pattern begins to break down beginning the middle of next week and from here we transition over to a blocking pattern. The appearance of a strong upper high that develops between Greenland and Northwest Europe begins to build westward. This basically displaces the jet stream to the south. Also we see the development of a strong North Atlantic Storm that changes the upper air flow across the entire Atlantic.
GFS JET STREAM SATURDAY FEBRUARY 24 2018
The process completes itself in about 10 days. After that it looks to lock in for awhile. This does not appear to be something that comes and goes in a few days. The last day in this model series has the block firmly in place.
GFS JET STREAM FORECAST WEDNESDAY FEBRUARY 28, 2018
All of this is fine and dandy but what does it actually mean. Well for starters it will mean colder than average temperatures coming back to the East and it will be sustained and not in and out quick shots. The storminess question remains another matter as that is always a question of timing and where all the troughs and ridges line up. That is a  complex puzzle for sure but it would seem that a pattern like this should create some chances for snow as we head into March. Since apparently some people seem to think that it never snows in March…ever…i would point out that average March snowfall for our area is almost the same as it is for December. Also the average snowfall in March in the last 17 winters(2000-2017)  has been more than 2 1/2 times as much as the prior 30 (1970-2000). Will it snow in March? I have no idea. Will we have a pattern that could produce a few opportunities? I think we will.
SHOP THE JOESTRADAMUS STORE
MANY THANKS TO TROPICAL TIDBITS FOR THE WONDERFUL USE OF THE MAPS
GET JOE A CIGAR IF YOU LIKE!
FiOS1 News Weather Forecast For Long Island
FiOS1 News Weather Forecast For New Jersey
FiOS1 News Weather Forecast For Hudson Valley
NATIONAL WEATHER SERVICE SNOW FORECASTS
LATEST JOESTRADAMUS ON THE LONG RANGE
SHOP AMAZON FROM THIS WEBSITE AND JEFF BEZO'S BUYS JOE A CIGAR AT NO COST TO YOU!