Rain With Weak Disturbance Passes South Dry North Mother's Day Delightful
Rain With Weak Disturbance Passes South Dry North Mother's Day Delightful


The weekend begins with a disturbance moving southeast from the Great Lakes to the Delmarva Peninsula and then offshore. An area of clouds is moving along with the northern cut off from the Hudson Valley to Southern New England. The line of measurable rain runs east west from about Allentown PA to Sandy Hook NJ. From there south rainfall amounts today of generally under a tenth of is expected except from Southern NJ southward where it could be up to 2 tenths.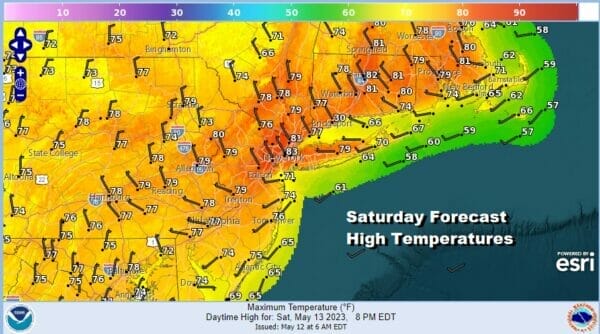 Gradually as the day wears on this disturbance will move south and so will the cloud line. Most of the rain will move out by early afternoon and a gradual decrease in clouds, increase in sunshine will occur from north to south. Temperatures this afternoon will have an upside down nature to them. It will be high to the north with Southern New England highs reaching the lower 80s while to the south with more clouds it will be in the cooler low and mid 70s. A northerly wind takes over and brings down dry cooler air from the north. Skies clear tonight everywhere with most lows in the upper 40s to middle 50s by Sunday morning.
SATELLITE

WEATHER RADAR

There are no issues Sunday Mothers Day as a strong high pressure area over the Great Lakes and Southern Canada noses southward down to the Mid Atlantic states. A mostly north or northeast wind will mean for much cooler temperatures and highs that will be back to average for this time of year and that is upper 60s to lower 70s. Radars will be nice and quiet all day long.
This is going to be a mostly dry nice weather week ahead. The northwest flow in the upper atmosphere continues which allows high pressure over Eastern Canada to overwhelm the Northeast and Middle Atlantic states with dry air. It also forces any energy from weather systems in the middle of the US from moving east and instead they get deflected well to the southeast.
This is going to leave much of the Northeast and Middle Atlantic states dry this week with the lone except of a cold front that moves southward from Eastern Canada and passes through Tuesday night or early Wednesday. Other than a shower or two this front comes through dry and just re-enforces the dry pattern in the East. Monday should be a mostly sunny day with highs in the low to middle 70s.
Tuesday we will have a west wind and sunshine ahead of that front and if there is sun all day, we could see a little upside to the temperatures which are forecast to reach the upper 70s and lower 80s. We could be more like 80 to 85 for the highs. One plus in this type of pattern is that dew points are low and the air is comfortable with no humidity issues.
Once the cold front passes Tuesday night it puts us back into a cooler dry air mass and we will have sunshine Wednesday with highs in the upper 60s to lower 70s. Then we start to slowly go higher for the end of the week before an approaching cold front from the west brings a threat for showers and thunderstorms next Saturday. Overall it is a nice weather pattern for May and no signs of blocking or gloom and doom are in the cards in the long range.
Please note that with regards to any severe weather,  tropical storms, or hurricanes, should a storm be threatening, please consult your local National Weather Service office or your local government officials about what action you should be taking to protect life and property.
(Amazon is an affilate of Meteorologist Joe Cioffi & earns commissions on sales.)