DOWNLOAD MY NEW FREE JOESTRADAMUS WEATHER APP FOR ANDROID
RAIN OVERNIGHT SHOULD BE UNDER 1/4 INCH. NO MAJOR STORMS FOR TRAVEL WEDNESDAY
THANKSGIVING AND BLACK FRIDAY RECORD COLD POSSIBLE
RAIN SATURDAY NIGHT INTO SUNDAY, LONG RANGE LOOKING VERY BLOCKY
We have a wave developing on a stalled frontal boundary tonight which is producing some rain with wet snow on the northern edge of the precipitation shield from West Virginia to Central New England. Gradually this area will shift southward overnight and we will see some rain out of this but this is not going to be a big rain producer. Winter Weather Advisories are posted from the Catskills to the Berkshires to Central and Northeastern New England. Several inches could accumulate with higher amounts in elevated areas but snow will have no impact here.
EASTERN SATELLITE

REGIONAL RADAR

Radars are showing some showers in Northeastern Pennsylvania to Central Massachusetts. Some snow is on the northern fringe. It is all moving eastward.  All of this will be gone by daybreak except for Eastern Long Island and Eastern Connecticut where the rain will take a bit longer to get out of the way.
LOCAL RADAR NEW YORK CITY
LOCAL RADAR PHILADELPHIA

The cold air arrives Wednesday and hits bottom Thanksgiving Day with temperatures just in the upper teens and mid 20s and lows by Friday morning in the single digits and teens. However the cold air begins to pull out rather quickly later Friday and for the weekend which sets the stage for some rain believe it or not for late Saturday into Sunday. As cold as it will be Thursday and Friday we will rebound over the weekend, possibly into the 50s on Sunday.
After Sunday the upper air pattern gets interesting for next week as blocking strengthens across the North Atlantic and will impact the weather across the Eastern US all next week.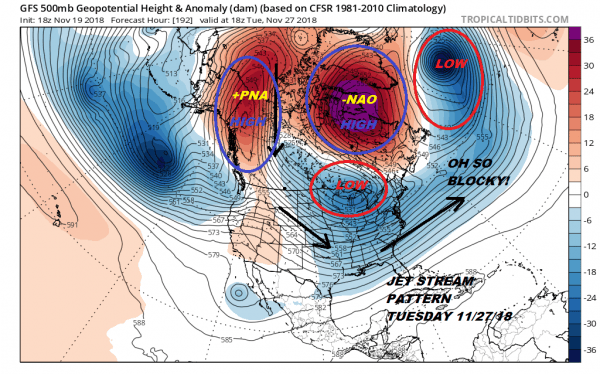 This is a very strong blocking signature that develops across North America for the end of November and the beginning of December. We have a very strong almost off the wall positive Pacific North America index in the west with a strong upper high, and a strong off the wall negative North Atlantic Oscillation index reflecting the strong Northwest Atlantic blocking. The jet stream is displaced well to the south of normal across the US. Energy coming across the US will likely result in 2 storm threats with one around the end of November and one during the first week of December. It is way to early to figure out any kind of specific details but it will be very interesting to watch this pattern evolve.
SUBSCRIBE TO PATREON FOR A WEATHER EXPERIENCE FREE OF ADS, EXCLUSIVE VIDEOS FOR MEMBERS ONLY AND MUCH MORE…STARTS AT $2 A MONTH..MESSAGE ME AT ANY TIME

MANY THANKS TO

TROPICAL TIDBITS

FOR THE USE OF MAPS
Please note that with regards to any tropical storms or hurricanes, should a storm be threatening, please consult your local National Weather Service office or your local government officials about what action you should be taking to protect life and property.
LATEST JOESTRADAMUS ON THE LONG RANGE