DOWNLOAD MY NEW FREE JOESTRADAMUS WEATHER APP FOR ANDROID
WINTER WEATHER ADVISORY NORTH OF RT 84 CATSKILLS NORTHEAST INTO BERKSHIRES
This is a big travel week for Thanksgiving. While the bulk of the travel is going to occur on Wednesday, those of you leaving tonight for areas to the north and northeast should be aware of some accumulating snow tonight in the middle and upper Hudson Valley, the Catskills and areas to the northeast into the Berkshires and interior New England. Look for additional advisories to be posted this evening in those areas. Snow amounts will be reasonable  and no upside surprise here is indicated as a possibility on weather models.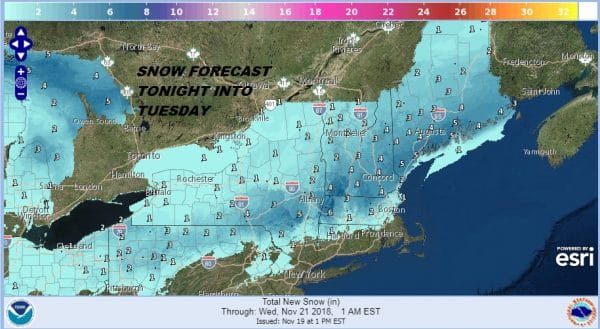 The snow tonight covers a large area north and west of the coast. Weather models have been in general trending warmer with this system so it is probably that the southern most edge of accumulating snow will be north of Route 84 in Pennsylvania eastward through Connecticut.
Since the vast majority of the area is going to see rain from this the amounts from Washington to Philadelphia to New York City to Hartford will be under a quarter of an inch and many areas will be as little as a tenth of a inch for tonight into Tuesday morning. After that there will be no precipitation issues but boy will there be cold issues! Not only will we have temperatures Thanksgiving morning down in the teens to near 20 but the wind chills will be absolutely brutal for this time of year.
Winds will be gusting to 20 to 30 mph all day on Thanksgiving Day so there will be no relief from temperatures that will be in the 20s all day long. This will be the coldest Thanksgiving since 2002, and it could be the second coldest ever behind Thanksgiving 1930!
SUBSCRIBE TO PATREON FOR A WEATHER EXPERIENCE FREE OF ADS, EXCLUSIVE VIDEOS FOR MEMBERS ONLY AND MUCH MORE…STARTS AT $2 A MONTH..MESSAGE ME AT ANY TIME

MANY THANKS TO

TROPICAL TIDBITS

FOR THE USE OF MAPS
Please note that with regards to any tropical storms or hurricanes, should a storm be threatening, please consult your local National Weather Service office or your local government officials about what action you should be taking to protect life and property.
LATEST JOESTRADAMUS ON THE LONG RANGE