DOWNLOAD MY NEW FREE JOESTRADAMUS WEATHER APP FOR ANDROID
THANKSGIVING ARCTIC COLD RECORD LOWS POSSIBLE THURSDAY & FRIDAY
TEMPERATURES REBOUND QUICKLY OVER THE WEEKEND
RAIN SATURDAY NIGHT INTO SUNDAY
This morning we are seeing showers moving away to the northeast as a frontal boundary buckles and a wave of low pressure begins to move to off the coast of Southern New England. Temperatures are in the 40s this morning and we will likely sit in the upper 40s and lower 50s today, depending on whether we get any breaks of sunshine developing this afternoon which is certainly possible. Going forward we can certainly say that there will be no weather related travel problems going into Wednesday which is the peak travel day before the Thanksgiving holiday. Weather in most of the United States looks relatively quiet.
EASTERN SATELLITE

REGIONAL RADAR

Watching the satellite and radar loops this morning we see the showers thinning out on the western flank and they should be gone off the local radars shortly. We see some breaks in the cloud cover on the satellite loop to the west which bodes well for some breaks of sunshine developing this afternoon.
LOCAL RADAR NEW YORK CITY
LOCAL RADAR PHILADELPHIA

We don't see any important changes in the outlook over the next 2 days. Bitter cold arctic air (for this time of year) is going to start arriving on Wednesday. Look for winds to increase as the day wears on and temperatures that will likely hover in the upper 30s and lower 40s and then gradually begin to drop later in the day. There could be a passing snow shower or two as the arctic front goes by. Then it's down to teens to near 20 Thursday morning.
The big issue for the Macy's Thanksgiving Day Parade is the wind for the big balloons. Winds will gust to 30 mph or more Thursday morning so this could be an issue. Also if you are going to the parade be prepared to endure temperatures in the low 20s and wind chills in the single digits. At least we will have sunshine and I suspect if you are home the kitchen will be the warmest room in the house.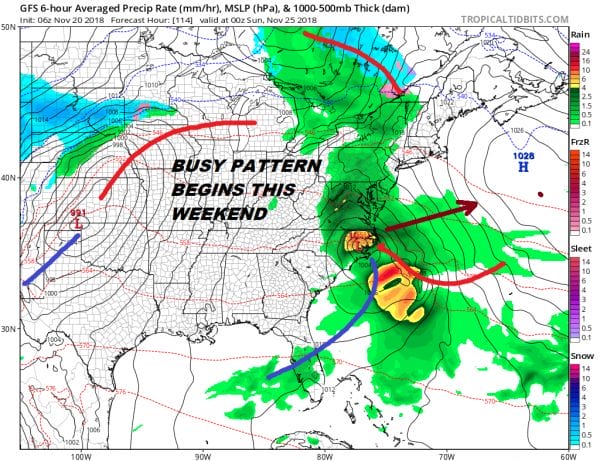 Temperatures will drop into the teens and single digits at night and then start moderating back to the upper 30s and lower 40s on Friday with plenty of sunshine. The weekend will bring higher temperatures into the 40s Saturday and into the 40s on Sunday as a warm front approaches and low pressure develops to the south of us. Some showers are likely Saturday night into Sunday morning. There will be no cold air around for any frozen precipitation.
SUBSCRIBE TO PATREON FOR A WEATHER EXPERIENCE FREE OF ADS, EXCLUSIVE VIDEOS FOR MEMBERS ONLY AND MUCH MORE…STARTS AT $2 A MONTH..MESSAGE ME AT ANY TIME

MANY THANKS TO

TROPICAL TIDBITS

FOR THE USE OF MAPS
Please note that with regards to any tropical storms or hurricanes, should a storm be threatening, please consult your local National Weather Service office or your local government officials about what action you should be taking to protect life and property.
LATEST JOESTRADAMUS ON THE LONG RANGE