JOESTRADAMUS: Early Winter Coming?
JOESTRADAMUS: Early Winter Coming?
Upper Air Suggesting Possibility
Drought Pattern Change Remains A Mystery
I have made several mentions of this over the last few weeks and judging from what I have been seeing in the upper air patterns across North America and beyond, I think we have a shot at seeing an early onset of winter.
First off we can see that our weather pattern overall is somewhat different than last year. If you remember last year around this time we went into a super ridge position in the Eastern US which led to not only the warmest November on record but the warmest December on record as well. In fact December was off the charts as far as warmth was concern. Last year when we cooled off from the extremes of being 20 or more degrees above normal to just 10 degrees or so above normal.
This is already setting up differently and there are 3 primary changes in the atmosphere. First off there is no El Nino. This is probably the most important change as the super El Nino revved up in the fall and continued into the winter.
Assuming the La Nina remains weak this will have a colder than normal temperature impact on the Eastern US.
We are also seeing major warming in the Arctic regions at the higher levels and even the highest levels of the atmosphere. In fact the weak state of the polar vortex in the Arctic region at the highest levels of the atmosphere is a cold winter signal for the Eastern US. There actually is a major warming event underway now which should translate into a colder upper air pattern atmospherically in a few weeks.
Now this does not mean that it can't get warm for a few days. Of course it can and probably will at some point in the 2 to 3 weeks. However unlike last year those warm ups will be short and transitory as we see what kind of overall pattern sets up. This also does not mean that cold and snowstorms are imminent. It does mean that at the very least the state of the atmosphere is completely different from last year at this time and that the outcome should be different as well. We will be watching the weather patterns closely over the next few weeks to see how it evolves. One thing that I will be paying close attention to is whether all this change creates an increasing frequency of weather events be it rain or otherwise. That is the one big mystery in this is whether this different hemispheric look that is developing will translate into a wetter than normal pattern in the drought areas. There is nothing that says we can't go from warm and dry to cold and dry for the next several months.
MANY THANKS TO TROPICAL TIDBITS FOR THE WONDERFUL USE OF THE MAPS
           SNOW REMOVAL COMPANIES FOR YOUR WINTER NEEDS
             LONG ISLAND                                ROCKLAND COUNTY                   Connecticut

WINTER 2016-2017 PART 1 OCEAN WATER TEMPERATURES
WINTER 2016-2017 PART 2 ARCTIC SEA ICE AND SIBERIAN SNOW COVER
FiOS1 News Weather Forecast For Long Island
FiOS1 News Weather Forecast For New Jersey
FiOS1 News Weather Forecast For Hudson Valley
NATIONAL WEATHER SERVICE SNOW FORECASTS
LATEST JOESTRADAMUS ON THE LONG RANGE
Weather App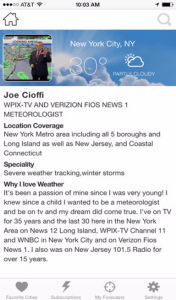 Don't be without Meteorologist Joe Cioffi's weather app. It is really a meteorologist app because you get my forecasts and my analysis and not some automated computer generated forecast based on the GFS model. This is why your app forecast changes every 6 hours. It is model driven with no human input at all. It gives you an icon, a temperature and no insight whatsoever.
It is a complete weather app to suit your forecast needs. All the weather information you need is right on your phone. Android or I-phone, use it to keep track of all the latest weather information and forecasts. This weather app is also free of advertising so you don't have to worry about security issues with your device. An accurate forecast and no worries that your device is being compromised.
Use it in conjunction with my website and my facebook and twitter and you have complete weather coverage of all the latest weather and the long range outlook. The website has been redone and upgraded. Its easy to use and everything is archived so you can see how well Joe does or doesn't do when it comes to forecasts and outlooks.
Just click on the google play button or the apple store button on the sidebar for my app which is on My Weather Concierge. Download the app for free. Subscribe to my forecasts on an ad free environment for just 99 cents a month.
Get my forecasts in the palm of your hand for less than the cost of a cup of Joe!