Happy Thanksgiving Rain Ending Weather Improves Into Weekend Stormy Stretch Next Week

Weather in 5/Joe & Joe Weather Show Latest Podcast
Happy Thanksgiving Rain Ending Weather Improves Into Weekend Stormy Stretch Next Week
A Happy Thanksgiving to all on what has started as a rainy day but the rains have moved along to the east and likely remain an issue for areas east of NYC across Southern New England and Long Island.  There is one last band of showers moving across Central and Eastern Pennsylvania but other than that, this is a simple cold front moving out to the east and if we play our cards right, weather conditions could start to slowly improve from west to east this afternoon. Highs today will be in the upper 50s and lower 60s.
SATELLITE

REGIONAL RADAR

We are still a bit busy on the radars this morning both regionally and locally but the trend will be for the radar activity to gradually diminish as we go through the day and the cold front passes to the east.
LOCAL RADAR NEW YORK CITY
LOCAL RADAR PHILADELPHIA

Heading into Friday and the weekend there doesn't appear to be any serious issues at hand. Other than a weak cold front that passes through Saturday morning (accompanied by a slight wind shift), there are no major issues. We are looking at some sunshine for Friday and Saturday as well as for Sunday. Temperatures will be in the mid to upper 50s Friday and low to mid 50s for Saturday and Sunday. It is a fairly straight forward forecast as high pressure builds into the Middle Atlantic States and then starts to slide out to the east on Sunday
The upper air pattern is transitioning to a stormy one for next week. We are seeing some rather strong changes in pressure patterns across the Northern Hemisphere as pressures rise across the North Atlantic and the Arctic and lower across the mid latitudes. The upper air jet stream above shows the trough in the Eastern US and the ridge in the Western US. In fact the trough in the east is dynamic as several strong short waves rotate around a strong upper low and each one will have impact. The tough part is figuring out the timing and the impact.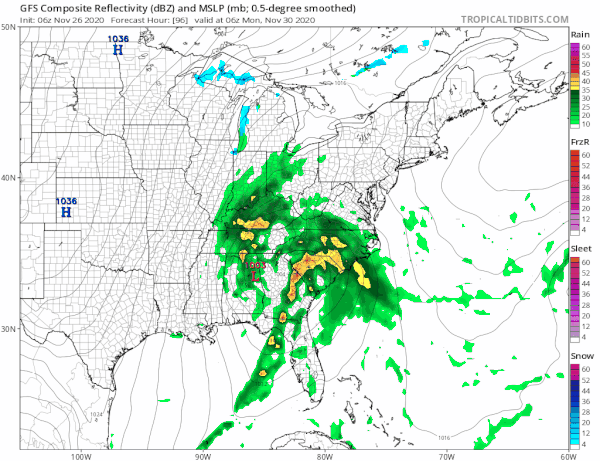 These large scale systems are slowing things down and that means storm number 1 will arrive on Monday vs Sunday. Rain develops from south to north Monday morning  as low pressure moves up the Appalachians. While we see a wind swept soaking rain here in the east on the order of a couple of inches, west of the low track a heavy wet snow is possible.
The Weather Prediction Center folks have a high probability of at least an inch of snow at 50% for next Tuesday into Wednesday from West Virginia northward into Pennsylvania and Ohio. That is a very high number for the 6th day in the forecast period leading to rather high confidence that this storm will be a big snow producer in the Central Appalachians. For us the first round of rain comes to an end Monday evening and then we will spend the next several days in rather unsettled conditions. A second storm later next week winds up producing a repeat performance of the first though the GFS has it flatter and east. I think it is likely that it could wind up being more developed and tracking up the east side of the Appalachians much like the first system for Monday. It will make for a busy stormy start to the month of December.
MANY THANKS TO TROPICAL TIDBITS FOR THE USE OF MAPS
Please note that with regards to any severe weather,  tropical storms, or hurricanes, should a storm be threatening, please consult your local National Weather Service office or your local government officials about what action you should be taking to protect life and property.