Fiona Closes in on Bermuda, Next to Nova Scotia Newfoundland
Showers Thunderstorms Exit As Autumn Air Arrives

We have showers coming through parts of Eastern Pennsylvania to Southern New England this morning with a cold front. Heavier showers are to the north of NYC and into New England where the rain is more widespread. Ultimately this weather front will move offshore today. The front won't move through until early afternoon si there is severe weather risk for an isolated severe thunderstorm
Once the front passes we will see decreasing clouds from west to east later this afternoon and evening with gusty winds developing from the northwest. Highs will be in the 70s today before the front passes and then look for temperatures to settle into the 60s late today after the front goes by. Also winds from the northwest will pick up and it will be rather breezy tonight as skies clear.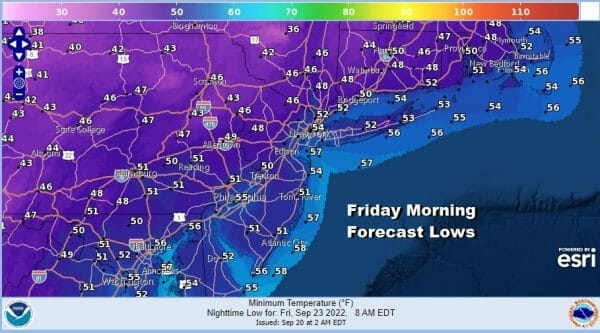 The arrivial of this Autumn air mass coincides almost perfectly with the arrival of the new season Friday. We are definitely going to see cool weather into the weekend with below normal temperatures. Lows Friday morning under clear skies will be in the mid 40s to lower 50s. Friday will be a sunny day but it will be windy. High pressure over the Great Lakes to the west and Hurricane Fiona which will be passing to the east will create a tight pressure gradient.
Friday high temperatures will be in the low to mid 60s but there will be places well inland in Northwest NJ, Northeast Pa, the Hudson Valley, and interior Southern New England that may have a tough time getting back to 60. Then we head down Friday night into Saturday morning under clear skies. Lows will again be in the mid 40s to lower 50s.
The weekend looks good for Saturday. The core of this cool air mass will be overhead and start to move out to the east during the afternoon. It will also be the better of the two weekend days as we have another cold front approaching on Sunday. Saturday we see Sunny skies and that takes temperatures back to the upper 60s and lower 70s which is about 5 or more degrees below where we should be for afternoon highs this time of year.
Sunday the next cold front approaches and it looks to get here a bit faster thanks to a northwest flow from Canada and another deep upper trough developing over the Great Lakes that will impact the weather in the Northeast next week. Look for clouds Sunday with some showers around in the afternoon and into Sunday night. Highs will be in the 70s. It should not rain all day and Sunday morning at least should be mostly dry.
HURRICANE FIONA WARNINGS FOR BERMUDA
AS FIONA NEARS THE ISLAND LATE TODAY & TONIGHT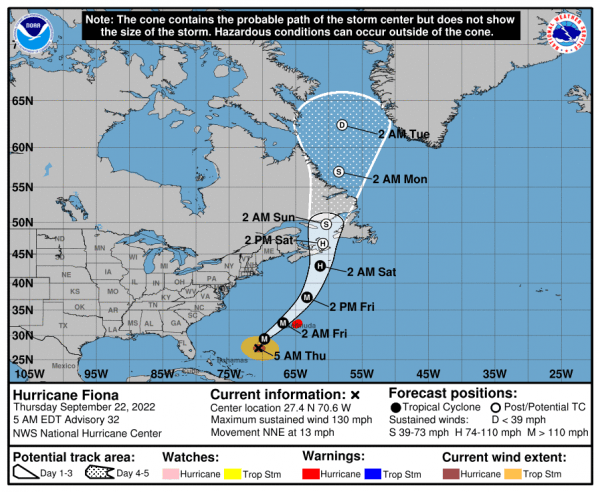 Hurricane Fiona is now less than 450 miles southwest of Bermuda. Hurricane warnings are up and weather conditions in Bermuda will deteriorate later today with tropical storm force winds and possibly hurricane force winds tonight. Fiona is still a major hurricane category 4 with winds of 130 mph and should still be a major hurricane as it tracks just northwest of Bermuda. From there it heads northward and accelerates. Nova Scotia and Newfoundland will be in line for storm force winds Friday night into Saturday. We will have more on this later today on our Weather in 5 video and tonight on the Joe & Joe Weather Show on youtube.
Please note that with regards to any severe weather,  tropical storms, or hurricanes, should a storm be threatening, please consult your local National Weather Service office or your local government officials about what action you should be taking to protect life and property.