Fiona Bermuda to Nova Scotia Newfoundland
Locally Warmer Ahead of Cold Front Very Cool Air Arrives Lasts Into Weekend

We can wave summer weather goodbye after today as some big changes are coming. Humidity levels today are inching up a bit but they should still be on the reasonable side. We have sunshine or at least no worse than partly sunny skies forecast for today. The next cold front is approaching but we do not expect any showers or thunderstorms with it through this evening. We may have to wait for overnight to get into showers and thunderstorms. Highs today will be mostly low to mid 80s with 70s at the shore.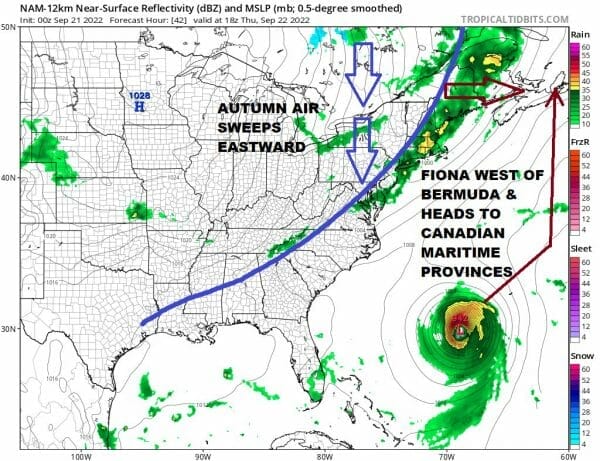 This cold front has slowed down by about 6 hours and that is due to category 4 Hurricane Fiona which is holding the front up slightly. Ultimately Fiona will be on a track where the core should pass northwest of Bermuda but they certainly will see gales there. Tropical Storm Watch is up for Bermuda. Fiona will be accelerating northeastward and the turn northward Friday and the risks for a landfall in Eastern Nova Scotia are rising as well as the risk for stormy conditions for Nova Scotia and Western Newfoundland. Fiona will be a powerful cyclone as it makes landfall there somtime late Friday night or on Saturday.
In the meantime we will see showers and maybe a thunderstorm or two Thursday morning and then it becomes breezy and cooler with leftover clouds Thursday aftenroon. Some sunshine could even develop. Highs will be in the 70s during the morning and temperatures could fall off later in the day once the front goes by.

Thursday night into Friday morning we will see temperatures drop to the mid 40s to lower 50s as skies clear. Friday will be a partly to mostly sunny day but it will be breezy and it will be cool. Most highs will be in the low to mid 60s and some inland highs may struggle to get above 60.
We are in a rather cool pattern overall so as this first high moves out we will see the next cold front approach later Sunday and Sunday night. Saturday will be mostly sunny and the better of the two weekend days. Highs will be in the upper 60s to lower 70s. Sunday look for some sunshine and arriving clouds with highs in the 70s and the chance for showers late in the day or Sunday evening into Monday morning. Next week it will be about another cool high building in and attention will also be focused on what could be a new tropical system that will develop in the Carribean late this week and take aim for the Western Caribbean and possibly the Eastern Gulf of Mexico later next week. We will be discussing more on this on our weather platform on Patreon.
Please note that with regards to any severe weather,  tropical storms, or hurricanes, should a storm be threatening, please consult your local National Weather Service office or your local government officials about what action you should be taking to protect life and property.