Most of Eastern Pennsylvania to Southern New England
Sees Little Rain This Week

This looked like a promising week for rain. The upper air pattern was setting up for widespread wet weather. There was going to be some tropical moisture getting involved. However somewhere along the way the upper air pattern adjusted in a way that would be unfavorable for rain. The tropical connection disappeared as the tropics show a total lack of activity. We are left with what looks to be a mostly dry week. Now there are some exceptions to this. We are seeing some showers in parts of Southeast Pennsylvania and Southern New Jersey. However most of the area the radars are quiet.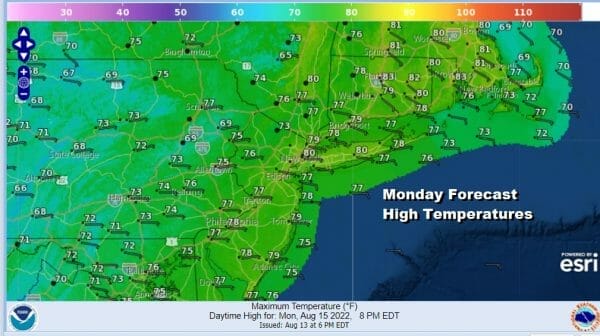 A big driver this week will be the low dew points. This is also going to limit the developement of showers and we actually will see reasonable dew points and humidity levels all through the work week. That said today lets call it cloudy to partly sunny for most places. Showers will be few and far between and many places will see nothing at all. Highs will be mostly in the 70s inland and upper 70s and lower 80s near the coast and points east.
We should pretty much be wash rinse repeat through Thursday at least. An upper trough in the East is so broad that the frontal boundary lies from the Middle Mississippi Valley to the Coastal Carolinas. That is rather far to the south for any substantial rainfall except for areas in say Virginia/North Carolina. Waves of low pressure will move more east than north. That leaves us in generally cloudy to partly sunny conditions Tuesday through Thursday.
Daytime highs will likely be in the upper 70s to around 80 coast and 80 to 85 inland each day. Nighttime lows will be in the 60s with maybe some 50s well inland and north. We will mention a low chance for some passing showers each day due to the onshore flow but for most of you, it will be little to no rain. Except for where it rains, humidity levels should remain reasonable most of the week.
Please note that with regards to any severe weather,  tropical storms, or hurricanes, should a storm be threatening, please consult your local National Weather Service office or your local government officials about what action you should be taking to protect life and property.