Risk of Showery Rains Into Midweek Low Stays Mostly Offshore

We are trying to hold on to the dry air mass that moved into the East late Friday and gave us a beautiful Saturday. We will be successful in holding on to it for the most part though we do have an upper air disturbance extending from the Lower Great Lakes to Virginia and that is producing a some clouds. Otherwise it should be no worse than partly sunny today with most highs reaching into the 80s. Some clouds will develop tonight as the flow turns to the east. Most lows will be in the 60s with some 50s inland.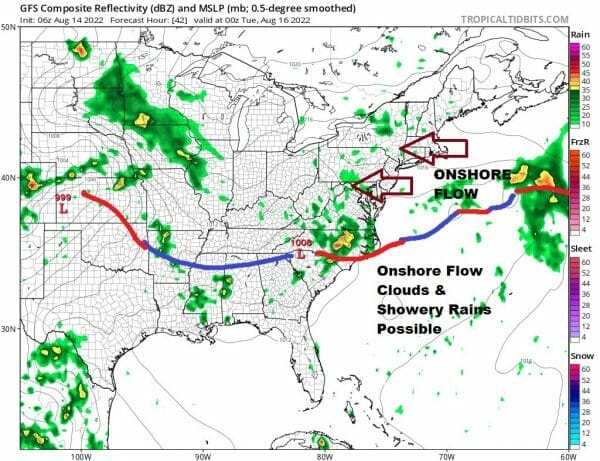 Monday starts off partly sunny but clouds will increase. We will throw in the chance for a few light showers as an onshore flow develops. Highs Monday will be in the 70s. It is quite possible that for most of the area tomorrow it will not rain.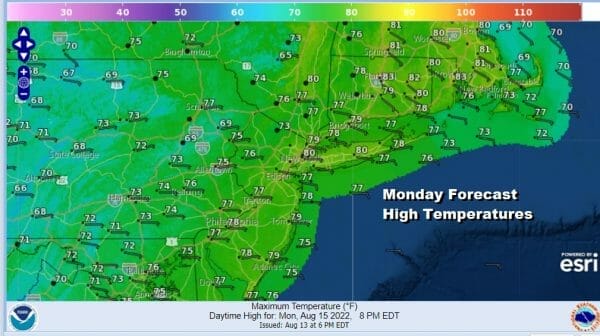 There will be an upper trough hanging around the Eastern US into Wednesday. Back last week and even at some points this weekend, we had models showing the development of a strong coastal storm for Tuesday night into Wednesday. I have been leaning against this idea and at this point it appears that while a low does develop offshore it will be mainly offshore, perhaps skimming Southern & Southeastern New England and possibly Long Island Tuesday night into Wednesday morning.
There is the chance that the low could be a little more tucked in depending on how the upper trough aligns itself. For now we will call for clouds and the chance for a few showers around due to the upper trough. Highs Tuesday will be in the 70s. Wednesday will see clouds and the chance for some showers. Most highs again just in the 70s thanks to clouds and the east wind. Weather conditions are likely to start improving Thursday and Friday.
Please note that with regards to any severe weather,  tropical storms, or hurricanes, should a storm be threatening, please consult your local National Weather Service office or your local government officials about what action you should be taking to protect life and property.