Labor Day Weekend Very Warm Mostly Dry Sunday,
Soaking Rain Developing During Monday

We may finally be getting our first decent shot of a soaking rain in the drought plagued Northeast and Northern Mid Atlantic states. The Weather Prediction Center has a slight risk of flash flooding which is roughly a 15 to 40 percent chance which isn't too shabby. What is more important that this is not just a line of thunderstorms that comes and goes but that it could be a solid soaking rain lasting 12 or more hours from start to finish. The question for many areas for Monday is when does it start. We will get to that in a moment.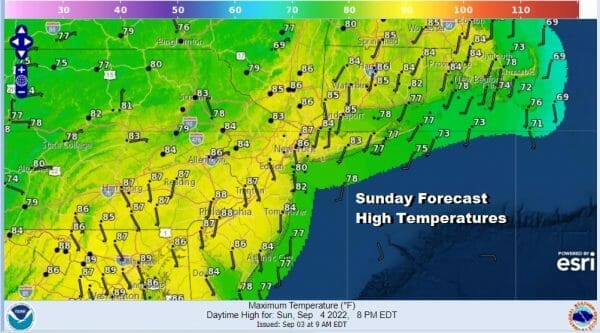 First off we have today which is a going to be a very warm and very humid Sunday with partly sunny skies or at least no worse than partly sunny with highs in the mid to upper 80s. Temperatures will be cooler at the beaches with a south wind. Late this afternoon into this evening there could be some isolated downpours or a thunderstorm but the feeling is that for most of the area this is a rain free day. Just keep a cautious side eye to the sky and the radar this afternoon just in case.
Clouds will start rolling in tonight regardless of whether there is a shower or thunderstorm this evening. Tropical moisture will be heading northeast ahead of a very slow moving cold front. Temperatures overnight in these humid conditions will be in the 60s to near 70. Monday will be a day with lots of clouds with highs in the upper 70s to lower 80s. The further south you go in New Jersey to Delaware, there could be some sun and in those areas the temperatures will be a little higher.
We will show you two views here of the what the GFS thinks the radar will look like Monday morning and Monday evening. Most but not all of the area will be dry Monday morning along the coast. with some downpours well inland. By late in the day the southern edge of the rain line will be dropping into Southern New Jersey.
So plan your day according to your location. If you need a specific forecast you can message me on my weather platform on Patreon. Rain should be falling everywhere Monday night into Tuesday morning and we do have the potential to see a nice soaking of 1 to 2 inches with some locally higher amounts possible especially inland.
Rain will let up slowly Tuesday from northwest to southeast with highs in the upper 60s to middle 70s. We should start to see some general improvement in sky conditions Wednesday with some sunshine trying to return though there still could be some leftover clouds around. Highs Wednesday will be in the 70s.
Please note that with regards to any severe weather,  tropical storms, or hurricanes, should a storm be threatening, please consult your local National Weather Service office or your local government officials about what action you should be taking to protect life and property.