Winter Weather Threats Threats Still On the Table
Overnight models continue to go all over the place regarding winter weather threats for next weekend or the middle of the following week. You have the operational runs showing all sorts of variations regarding track, speed, strength, or even existence. Regarding system number one we have the GFS beginning to zero in on a coastal low. The differences from prior runs concerns the cold air to the north and whether a negative North Atlantic Oscillation would force a track offshore. You can see how cold air is trying to wedge down from the northern high much like what we saw last week only with a little bit more cold air this time. The strength of the NAO is going to be critical here in terms of what kind of winter weather threats happens if at all and whether models will trend colder or not. Below are the maps of the gfs weather model of the last 2 runs.
The North Atlantic Oscillation or NAO is forecast to go negative late next week in conjunction with this developing system above. The issue is whether it goes negative fast enough. A stronger NAO means a track further south and colder.

The European last night says NO! The primary to the west is becoming more and more of a player here. At this point per the European whatever happens is already overwith.  The NAO at best is neutral next weekend and the models are at this point saying that unless it crashes faster there won't be a enough cold air and a track further north. 
Now weigh the ensembles overnight which were all colder and paint a much more bullish picture for snow and ice for next weekend. Obviously you know we weren't going to have this all figured out already so we continue to move along. Last night's GFS model analysis video gets into things a little deeper.
Finally for those of you who like super long range, yesterday was the first of the month and the monthly climate forecasts from our friends to the north come out and this is the forecast temperature anomaly for February. I guess this model is banking on the pattern change hanging around with a weakening el nino. No guarantees of course but it looks like its forecasting temps about 4 degrees below normal for our area.
NATIONAL WEATHER SERVICE SNOW FORECASTS
LATEST JOESTRADAMUS ON THE LONG RANGE
Weather App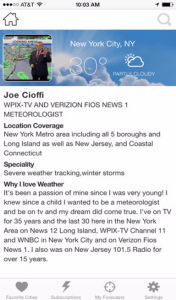 Winter is coming. Don't be without Meteorologist Joe Cioffi's weather app. It is a complete weather app to suit your forecast needs. All the weather information you need is right on your phone. Android or I-phone, use it to keep track of all the latest weather information and forecasts. This weather app is also free of advertising so you don't have to worry about security issues with your device. An accurate forecast and no worries that your device is being compromised.
Use it in conjunction with my website and my facebook and twitterand you have complete weather coverage of all the latest weather and the long range outlook. The website has been redone and upgraded. Its easy to use and everything is archived so you can see how well Joe does or doesn't do when it comes to forecasts and outlooks.
Just click on the google play button or the apple store button on the sidebar for my app which is onMy Weather Concierge. Download the app for free. Subscribe to my forecasts on an ad free environment for just 99 cents a month.
Get my forecasts in the palm of your hand for less than the cost of a cup of Joe!