Winter Weather Advisory Winter Storm Warnings Tonight Into Friday

Winter Weather Advisory Winter Storm Warnings Tonight Into Friday

Our latest winter weather system is headed our way and we have Winter Weather Advisories posted for Northern New Jersey north and west of the turnpike, NYC, the north shore of Long Island, all of Connecticut and the lower Hudson Valley.  Winter Storm Warnings are up for Upstate NY and Central new England. For our area from Eastern Pennsylvania to Southern New England snow and sleet tonight will go to sleet freezing rain and rain Friday morning before it ends by midday Friday.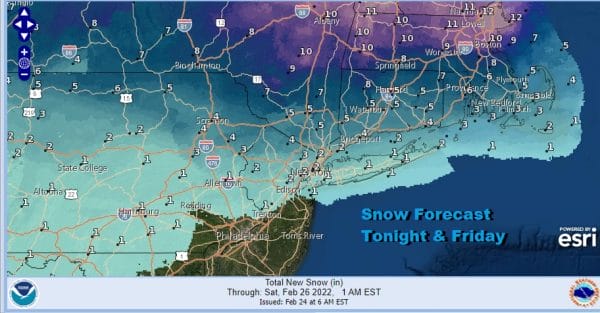 Snow and sleet accumulations will be on the order of a coating to an inch or 2 along the coast before we see change to freezing rain or rain by daybreak. Inland northeeast and northwest of the coast the period of snow and sleet will last longer making for higher amounts. This will be followed by freezing rain especially north and west of Route 287 in New Jersey and the Hudson Valley.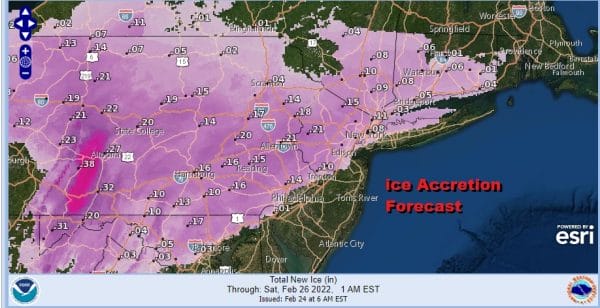 Ice accretion inland will be on the order of a tenth to a quarter of an inch with up to a tenth of an inch possible on Long Island and coastal Connecticut. Colder air to set all this up has arrived and after yesterday's record high temperatures, we are a solid 40 degrees colder in most places today. Clouds will be increasing and we can already see them on the satellite picture. There is some snow showing up on the radar that is running out ahead of the main area of precipitation. Most of it is light and scattered. Temperatures will be mostly in the low to mid 30s for highs.
SATELLITE

WEATHER RADAR

Tonight we will see sleet and freezing rain develop in Maryland and Pennsylvania and then spread across New Jersey and the Hudson Valley and finally Long Island and Connecticut. For Southern and coastal New Jersey it will be mostly rain. As precipitation picks up in intensity we will see snow break out but for many areas close to the coast it will be more sleet than anything else. A change to freezing rain and rain occurs Friday morning along the coast but further north the snow and sleet will last longer making for higher accumulations.
All of this comes to an end Friday midday to early afternoon from west to east. Leftover clouds will give way to some clearing late in the day. Temperatures will likely hold in the upper 20s to near 30 inland and low to middle 30s coast throughout this entire event. The weekend looks cold but dry  with some sunshine Saturday and Sunday. Late Sunday and Sunday evening a cold front could bring a few snow showers or snow squalls. Saturday highs will be in the 30s. Sunday's highs will be into the 40s.
Please note that with regards to any severe weather,  tropical storms, or hurricanes, should a storm be threatening, please consult your local National Weather Service office or your local government officials about what action you should be taking to protect life and property.