DOWNLOAD MY NEW FREE JOESTRADAMUS WEATHER APP FOR ALL DEVICES
THE APP IS ABSOLUTELY FREE TO ALL BUT CONSIDERING SUBSCRIBING TO PATREON FOR A WEATHER EXPERIENCE FREE OF ADS, EXCLUSIVE VIDEOS FOR MEMBERS ONLY AND MUCH MORE…STARTS AT $2 A MONTH..MESSAGE ME AT ANY TIME
Winter Weather Advisory Wednesday Joe's Final Call Snow Forecast
It makes it easy when they put the entire area under one advisory and we have exactly that. Winter Weather Advisory is in effect for all of New Jersey, the Hudson Valley, NYC, Long Island and Connecticut. There are no issues tonight or for tomorrow morning for the morning commute. For these areas the issues will be during the afternoon and evening.
Winter Storm Warnings cover southeastern Pennsylvania  down into Maryland and northern Virginia including the Washington DC/ Baltimore metro area. The counties surrounding Philadelphia are under a Winter Weather Advisory. The areas under a warning will see snow develop from south to north tomorrow morning reaching Washington DC around 7am and reaching Philadelphia around 11am or so. Snow begins in NYC around 1pm and then spreads east and north during the afternoon.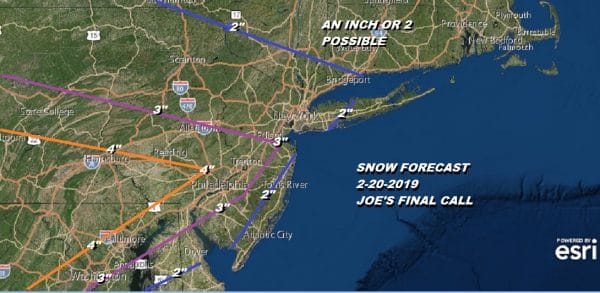 Here is the final call snow forecast map. I moved a few of the lines around and tightened them up a bit but the theme remains the same. Highest amounts in the 4″+ zone will be in South Central Pennsylvania southward to near Baltimore and just northwest of Washington DC. We are thinking around 3 inches for Philadelphia metro and 2 to 3 inches in and around NYC. Regardless we will change to rain from south to north.
The Nam model above shows the system from 7am Wednesday to 10pm Wednesday. Final snow amounts will depend on the snow holding together as it moves northeastward into a shrinking area of cold air. Eventually from later in the afternoon and evening the snow changes over to sleet and then to rai. Snow changes to sleet and rain during the early afternoon across Southern Pennsylvania and Southern New Jersey. Everyone changes to all rain into Thursday evening and then it ends overnight. Weather conditions improve Friday and with sunshine, highs will be close to 60 degrees in some areas.
MANY THANKS TO

TROPICAL TIDBITS

FOR THE USE OF MAPS
Please note that with regards to any tropical storms or hurricanes, should a storm be threatening, please consult your local National Weather Service office or your local government officials about what action you should be taking to protect life and property.