DOWNLOAD MY APP FOR FREE & CONSIDER JOINING PATREON

THE APP IS ABSOLUTELY FREE TO ALL BUT CONSIDERING SUBSCRIBING TO PATREON FOR A WEATHER EXPERIENCE FREE OF ADS, EXCLUSIVE VIDEOS FOR MEMBERS ONLY AND MUCH MORE…STARTS AT $2 A MONTH..MESSAGE ME AT ANY TIME
Winter Weather Advisory Upstate NY New England Wednesday into Thursday
We have Winter Weather Advisories that have gone up for much of Upstate NY and into New England including Southern Connecticut north of Route 15 and in the Hudson Valley from Dutchess and Ulster Counties northward. This is being caused by a weather system basically sliding southeast across Pennsylvania to the New Jersey coast. For now NYC, Long Island, Northern New Jersey & southern areas of the Hudson Valley outside the Winter Weather Advisory area.
This is not to say that the areas just south of the advisory area are not going to get snow. Light amounts of a coating to an inch or two will extend southward to about NYC and Northern New Jersey and then sharply cut off to a coating just south of this area and to little or nothing south and east of the New Jersey turnpike.
SNOW FORECAST MAPS
New York City, Ne NJ, HV, LI, Coastal Ct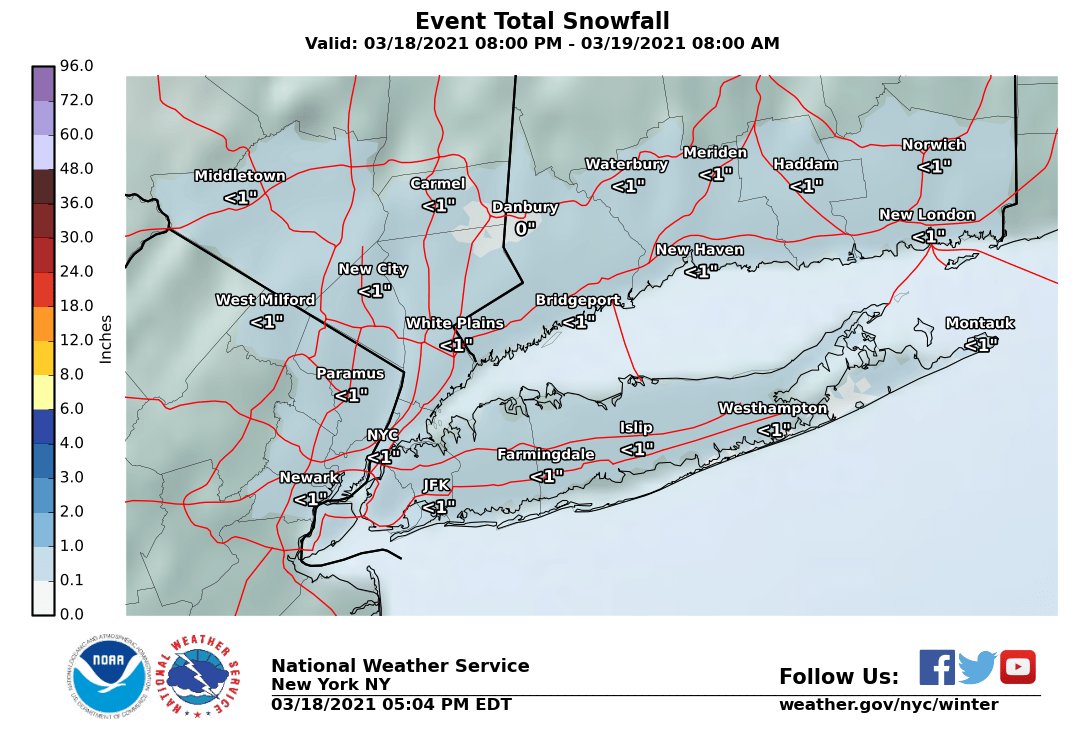 Over New Jersey that is covered by Mount Holly you can see their view shutting the snow off south of Route 195. This is the sort of situation that could shift slightly further southeast so we will be watching for that possibility. However the upper air profile here is rather weak and it is hard to see much upside happening from this system.
NEW JERSEY & PARTS OF NE PA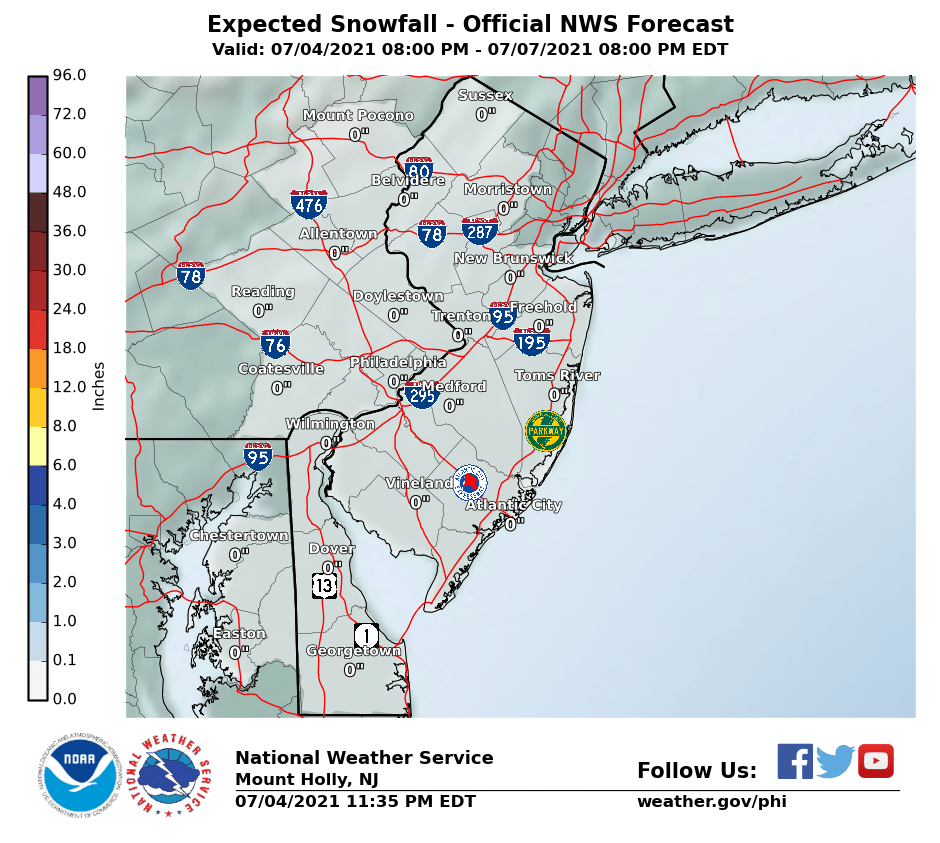 SOUTHEASTERN NEW ENGLAND
Winter Weather Advisories are not up yet for Northeastern Massachusetts but this will probably change in the morning due to a later start time. A general 3 to 4 inch snowfall is indicated here and if Boston gets what is predicted, they may finally move head of NYC in the annual snow totals by breaking the 10 inch mark.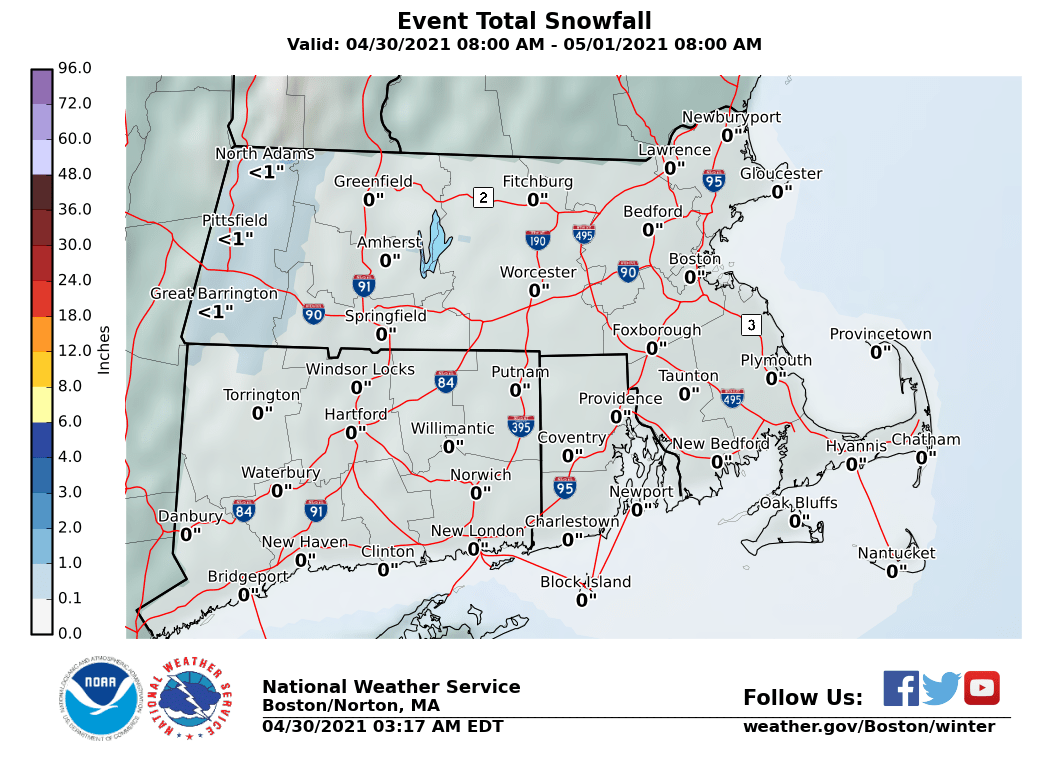 NORTHERN NEW ENGLAND
For a change Maine misses out from this system with almost the entire state except the extreme southwest gets nothing. The southwest area is on the edge of a coating to at most an inch.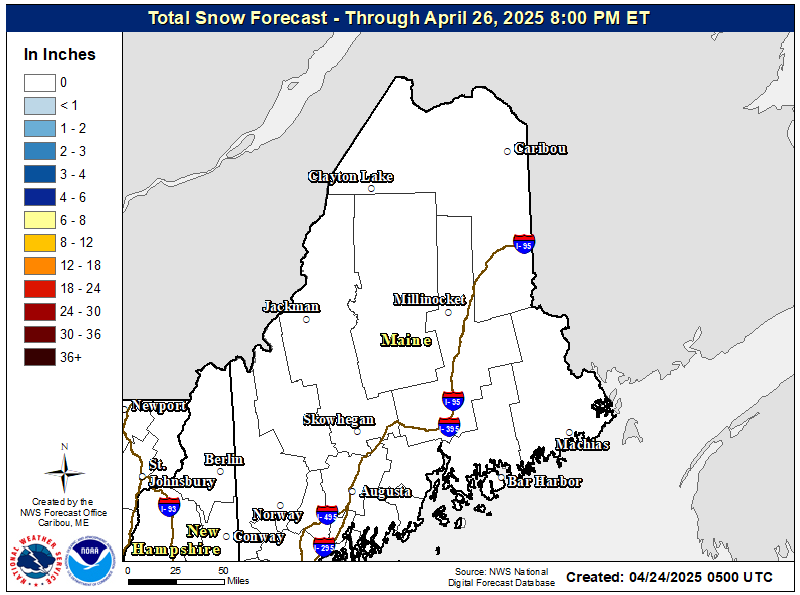 WESTERN NEW ENGLAND
Through Western New England and Northeastern NY lower amounts will be north toward the Canadian border and then amount increase as you head south through Southern Vermont and the Southern Adirondacks. 1 to 4 inches looks like a good range for this area.
MIDDLE AND UPPER HUDSON VALLEY
The Middle Hudson Valley looks to be in a bit of a sweet spot here as far as snow accumulations are concerned. A general 2 to 4/3-5 inch snowfall is being indicated by the National Weather Service here though I would tend to lean to the low end of the range here.
CENTRAL NEW YORK & NE PA
This area could see a max area of 6 inches as you head north toward I-90 with amounts dropping somewhat to the north and to the south. Amounts drop considerable to a coating to a couple of inches in Northeastern Pennsylvania.
Western New York gets several inches out of this as well with lower amounts in North Central NY on the east shores of Lake Ontario. This is gentle compared to the strength of snow squalls during times when the lake effect snow machine is turned on. No lake effect here but just a general light widespread snowfall.
CENTRAL & SOUTH CENTRAL PA
Snow here drops rapidly from north to south with little or nothing at all in the Southern half of Central Pennsylvania while the Northern half of Central Pennsylvania sees a coating to an inch half way up to several inches in the northern counties that border NY State.
VIRGINIA & MARYLAND
The snows that are indicated here are with another weak weather system that will be moving northward from the Gulf States Thursday night into Friday morning. If this area holds together, a coating to a couple of inches is possible here.
Please be advised that these are National Weather Service Forecast Maps and they auto update. Each office may update at different times and some offices are slower to update then others. Maps are usually updated before 5am and & 5pm however they may be updated at other times depending on forecast conditions. These are not my forecasts. My forecasts can be found on the JOE'S SNOWFORECAST PAGE. Individual forecasts for specific areas may also be found when conditions warrant on the my area forecasts. Those can be found on the website menu. Click on forecasts and then select your specific area.