DOWNLOAD MY NEW FREE JOESTRADAMUS WEATHER APP FOR ALL DEVICES
THE APP IS ABSOLUTELY FREE TO ALL BUT CONSIDERING SUBSCRIBING TO PATREON FOR A WEATHER EXPERIENCE FREE OF ADS, EXCLUSIVE VIDEOS FOR MEMBERS ONLY AND MUCH MORE…STARTS AT $2 A MONTH..MESSAGE ME AT ANY TIME
Winter Weather Advisory NYC New Jersey Long Island Hudson Valley Connecticut
Snow Sleet Rain
Winter Storm Warnings Southern Pennsylvania in Maryland & Virginia
There are no important changes to the weather outlook for today. Winter Weather Advisory is up for all of New Jersey, Hudson Valley, NYC, Long Island, & Connecticut. Snow is developing on the radar and will be moving up this morning reaching Philadelphia around 10-11am and NYC around noon 1pm or so with the Hudson Valley Long Island and Connecticut to follow. The area of snow is impressive this morning on the observations and the radars below over Maryland, Northern Virginia and into Southern Pennsylvania.
EASTERN SATELLITE

REGIONAL RADAR

The arc is lifting up to the northeast and it is showing up on the local radars. The precipitation shield is going to weaken somewhat as it moves northward which is why the amounts skew downward as you head north. Cold air is overhead now and will gradually weaken this afternoon as winds begin to come in from the east, then southeast, and ultimately south tonight.
LOCAL RADAR NEW YORK CITY
LOCAL RADAR PHILADELPHIA

Late this afternoon it is a change to sleet and then rain that starts from south to north in Central New Jersey and then sweeps across NYC Long Island Connecticut, Hudson Valley and Northern New Jersey between 5pm and 7pm. From there we go to all rain though it may take an extra hour or two inland and then the rain comes to an end overnight.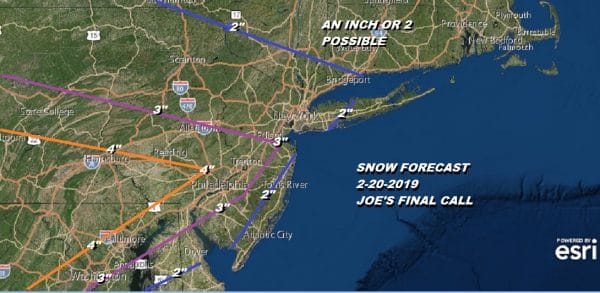 What doesn't get washed away melts tomorrow as clouds give way to some sunshine. Highs will reach the 50s everywhere and some spots could approach 60 degrees in the afternoon.
No issues Friday and Saturday with some sunshine both days. Then the next system which is going to be a bit of a powerhouse heads for the Great Lakes which means it warms up here and eventually we get into rain and showers. Temperatures could be headed into the 50s and 60s ahead of this  We will talk about the weekend and more once today is all said and done.
MANY THANKS TO

TROPICAL TIDBITS

FOR THE USE OF MAPS
Please note that with regards to any tropical storms or hurricanes, should a storm be threatening, please consult your local National Weather Service office or your local government officials about what action you should be taking to protect life and property.