Winter Weather Advisory Rain Turns to Freezing Rain
Icing Developing Very Cold Tonight

Winter Weather Advisory Rain Turns to Freezing Rain
Icing Developing Very Cold Tonight
Rain is changing over to freezing rani from north to south as cold air is taking longer to get here, the cold front is slower, and it looks like the precipitation will last longer so eventually we all get to the same place. Winter Weather Advisories are in effect frpm Eastern Pennsylvania to Southern New England and has been expanded to include Long Island and a few counties in Southeastern Pennsylvania and in New Jersey where advisories now extend into parts of Central Jersey. Elsewhere advisories continue with no changes.
Ice accretion forecasts remain the same. The bigger issue especially in areas along the southern flank of the advisory zone is that with precipitation lasting all day and temperatures falling, once it stops we will be in the 20s and heading into the teens tonight. That means all standing moisture will freeze creating icy conditions. Inland ice accretion will range from a tenth to a quarter of an inch.
SATELLITE

WEATHER RADAR

There is still a lot of precipitation on the radar to the south and that has to play through as temperatures fall. The front continues to slow and that slowed everything down by 5 or 6 hours in terms of the process. That is actually not a good thing because precipitation will last after sunset before ending and then it will all freeze up tonight as temperatures fall into the teens and lower 20s overnight. To the north of the course it will be about both freezing rain and the freezing of standing moisture except that is already happening.
The weekend should not be an issue as we have high pressure building into the Northeast for both Saturday and Sunday while today's cold front will be offshore and stalled off the Florida coast. Look for sunshine Saturday but it will be cold with highs just in the 20s to around 30. Sunday look for partly sunny skies with highs back into the 30s. Next week looks relatively dry and unventful. A couple of storm systems move off the Southeast coast and out to sea so no issue there. We will just have weak cold fronts passing through from time to time with temperatures near seasonal averages. A quiet week will be a good thing after the recent active pattern.
Southern New England Ice Forecast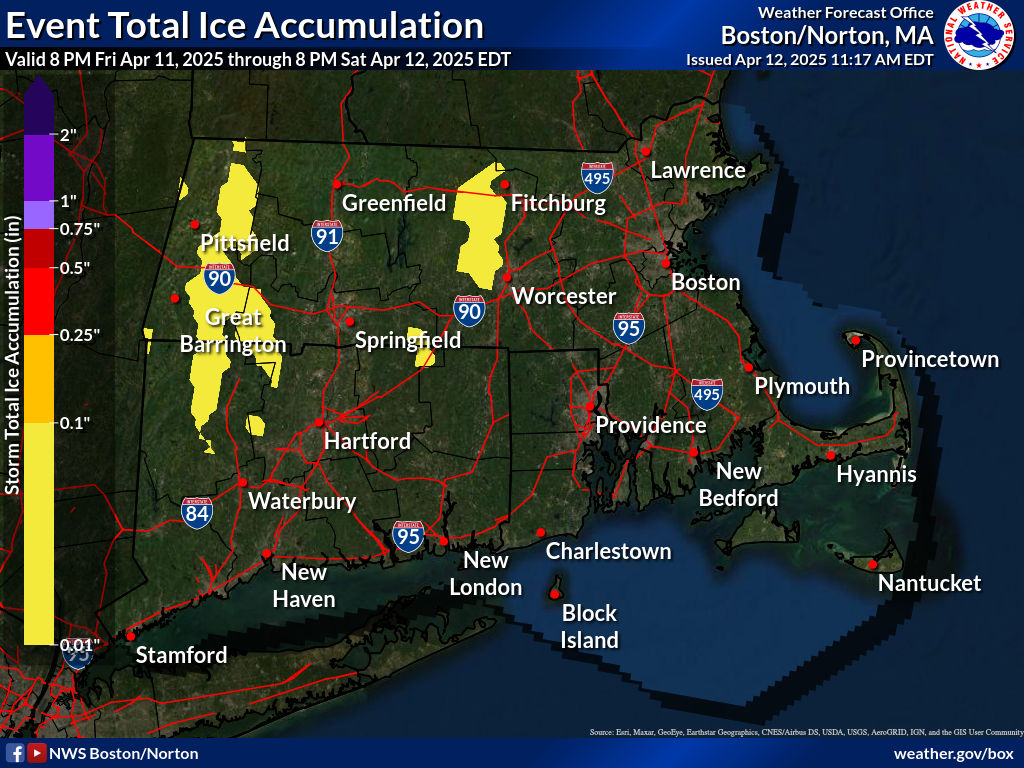 EASTERN PENNSYLVANIA NW CENTRAL & SOUTH JERSEY/DE MD
Please note that with regards to any severe weather,  tropical storms, or hurricanes, should a storm be threatening, please consult your local National Weather Service office or your local government officials about what action you should be taking to protect life and property.