Winter Weather Advisory Posted Eastern Pa, Northern NJ, Hudson Valley Connecticut

Weather in 5/Joe & Joe Weather Show Latest Podcast
Winter Weather Advisory Posted Eastern Pa, Northern NJ, Hudson Valley Connecticut
After a relatively warm and breezy day we are setting up for Sunday's system that will be moving up from the Carolinas to just south of Long Island Sunday night. We will marginally cold air and I do mean marginal which makes the forecast even more difficult. Inland areas are now under a winter weather advisory for later Sunday into Sunday night.
The NWS snow forecast has been updated and they are showing that in the advisory area anywhere from 1 to 4 inches of snow could accumulate by the time this all is over with Sunday night.
My opinion on this is that this happens only if the atmosphere winds up being that critical 1 or 2 degrees colder than advertised and every single flake that falls sticks. I think that might be a bit of a tall order. My forecast is on the lower end of the range.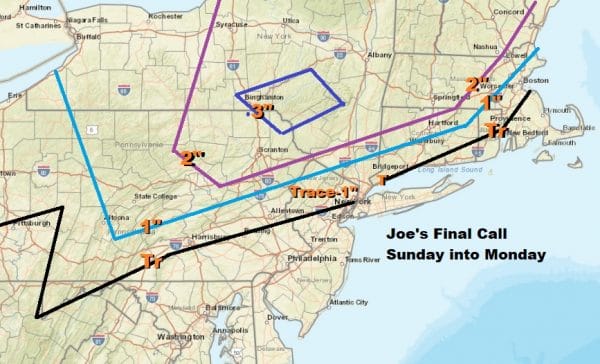 Of critical importance is a building high to our north and how cold it gets tonight into Sunday morning. Inland areas will bottom in the 20s tonight and coastal and urban areas will see lows in the lower 30s.
What is likely to happen Sunday morning is an area of snow develops well ahead of the developing low and comes through mid morning to early afternoon. This is followed by a short break, and then more precipitation develops in the late afternoon and evening as the offshore low beings to strengthen a bit.
With the exception of the colder European model which would bring snow and sleet down to NYC and Long Island, the other models are all warm and we are going to go with the slightly warmer idea and the lower slow amounts. For coastal areas on Long Island to NYC and south of Route 78 in New Jersey, some mixing of wet snow or sleet could occur but no accumulation is expected in these areas.
SATELLITE

Meanwhile this evening and tonight there are no weather issues. The wind is easing. Skies are generally clear and nothing of consequence happens during the overnight periods. If it turns out that we are going to be a little colder as the system develops we will adjust are amounts in the Sunday morning update.
MANY THANKS TO TROPICAL TIDBITS FOR THE USE OF MAPS
Please note that with regards to any severe weather,  tropical storms, or hurricanes, should a storm be threatening, please consult your local National Weather Service office or your local government officials about what action you should be taking to protect life and property.