Winter Weather Advisory NW New Jersey NE Pennsylvania Freezing Rain
Winter Weather Advisory NW New Jersey NE Pennsylvania Freezing Rain

Winter Weather Advisory has been posted for Sussex County in New Jersey as well as Carbon & Monroe Counties in Northeastern Pennsylvania for up to a tenth of an inch of ice accumualtion tonight. This is a situation where cold air gets trapped in the valleys and you wind up with some icing and slick spots so be cautious if driving overnight in these counties as well as some of the surrounding counties. Temperatures may hover in the low to mid 30s much of the night in these areas and in the mid to upper 30s everywhere else.
NEW JERSEY SE PA & VICINITY ICE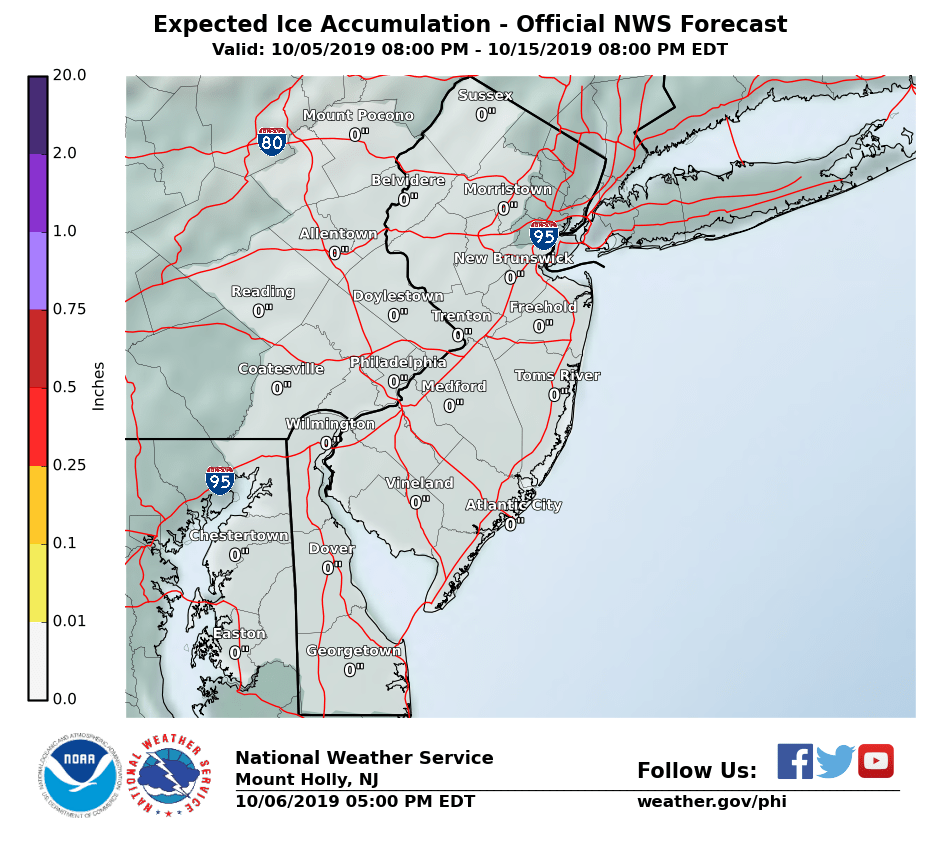 The latest satellite picture shows our area socked in now with clouds as a warm front makes its way toward us. The rain that is on the regional radar is holding its own though it is forecast to weaken overnight. Most areas will see some patchy light rain or even some drizzle could develop along coastal areas overnight.
US SATELLITE

REGIONAL RADAR

Local radars are picking up on the leading edge of the rain as it moves eastward. So far nothing exceptional is showing up and the impact to the evening commute should be minimal.
LOCAL RADAR NEW YORK CITY
LOCAL RADAR PHILADELPHIA

Showers are a bit more impressive across Eastern & Southeastern Pennsylvania and those showers may hold up a bit better as they move into Southern New Jersey and Delaware. Later tonight NYC Long Island and Connecticut will see some light rain or drizzle with temperatures mostly in the mid to upper 30s.
Wednesday will be a cloudy day though some breaks in the cloud cover could show up late in the day. A few showers or some patchy light rain/drizzle is possible. Temperatures away from the ocean will run up into the 50s but along the coast it will probably hold in the 40s. Thursday looks like it will be cloudy with some breaks of sun. Highs will range from the 40s along the immediate coast to the lower 60s inland and west. More showers are coming Thursday night into Friday morning before weather conditions improve later in the day.
As far as the weekend goes we should see sunshine with highs in the 50s Saturday. Perhaps there could be a few passing showers Saturday night into early Sunday morning with developing sunshine later in the day. Highs Easter Sunday will be in the 50s.

GET JOE A CIGAR IF YOU LIKE 
FiOS1 News Weather Forecast For Long Island
FiOS1 News Weather Forecast For New Jersey
FiOS1 News Weather Forecast For Hudson Valley
LATEST JOESTRADAMUS ON THE LONG RANGE