Winter Weather Advisory Northwest New Jersey
Parts of Hudson Valley Northeast Pennsylvania Winter Storm Watch Catskills

The next weather system heading our way is for Wednesday and we have Winter Weather Advisories for Northwest New Jersey and Orange County in the Hudson Valley. Winter Storm Watch is posted for the Catskills. This is going to be a quick burst of snow followed by a change to rain within a few hours so it will be a matter of how hard it snows for how long.
In general there will be nothing along the coast for Long Island and Coastal New Jersey other than a wet mix. A coating to an inch starts in Northwest Nassau County and extends across NYC to Northern New Jersey north and west of the turnpike. North of Route 80 and west of 287 there could a couple of inches of wet snow before it changes to rain. Also in the Hudson Valley northwest of Route 84 there could be a couple of inches. In Northeast Pennsylvania to the Catskills we start to get into the amounts over 4 inches. Also look several inches in Northern Connecticut north of Route 84.
A good place to look where there is a likelihood of at least 2 inches is on the Weather Prediction Center probability of at least 2 inches map. 50% or higher usually winds up verifying for the 2 inch threshold and you see here that it runs across Northwest New Jersey and in the Hudson Valley north of Route 84 as well as across Connecticut virtually cutting it in half.
SATELLITE

WEATHER RADAR

Ahead of all this today we have some clouds around and some breaks of sun. There is a weak cold front moving across Upstate NY with some snow over Northern NY however this front is set to weaken and fall apart later today. It does allow for slightly colder air to bleed southward late today and tonight which sets up the snow burst Wednesday. Most highs today will be in a range of 38 to 45.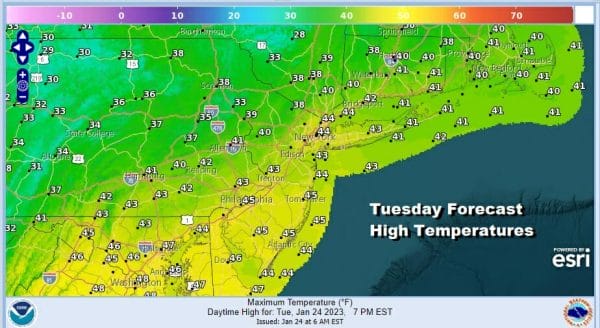 Most lows tonight will be in the 20s except for the warmest urban settings where it will settle in the lower 30s. Clouds will start increasing toward morning as the storm heads northeast through the Ohio Valley and eventually it winds up over Lake Erie. The primary low holds on for too long and the secondary doesn't develop until it is too far to the north. Therefore snow develops during the late morning and early afternoon. There is a narrow band of heavier snow that develops well ahead of the low and then we get the main shot that should last for an hour or two before it changes to rain during the late afternoon and evening from south to north.
Everything is moving rather quickly which is why we don't see much on the front end and then the rain that follows will be heavy at times. Rainfall amounts across Eastern Pennsylvania to Southern New England will be on the order of a an inch to an inch and a half and I would not be surprised if, once again like last Friday, some areas experience a rumble or two of thunder. The rain will end from west to east Thursday morning with leftover clouds and some developing sun Thursday afternoon. Highs will be in the 40s. Friday will be dry and cold with some sunshine and highs mostly in the 30s.
Please note that with regards to any severe weather,  tropical storms, or hurricanes, should a storm be threatening, please consult your local National Weather Service office or your local government officials about what action you should be taking to protect life and property.