Winter Weather Advisory Northern PA Catskills Northern Connecticut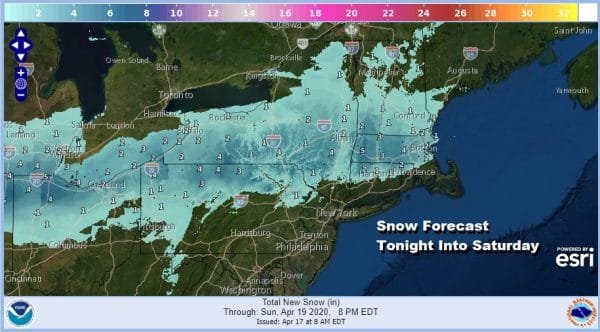 We are knocking on the door of the weekend with a chilly weather pattern in hand and another in a series of weather systems approaching from Ohio Valley. This low will be passing south off the New Jersey coast Saturday morning. This means snow for the interior Northeast as the snow forecast maps shows above. Most of this will stick even on main roads from Northern Pennsylvania to interior Southern New England (north of Route 84) on the order of a coating to a few inches. Areas where elevation is a factor could push those number up to 4 to 6 inches in some places.
Winter Weather Advisories are posted across much of Northern Pennsylvania and  Southern NY east to the Catskills. Advisories are also posted across Northern Connecticut northward into Massachusetts, southernmost Vermont and New Hampshire. Meanwhile we are seeing clouds on the satellite picture to the west and those clouds will be moving in and thickening up this afternoon. Temperatures this afternoon in most areas will be in the upper 40s and lower 50s.
SATELLITE

REGIONAL RADAR

Precipitation will develop late this afternoon and this evening from west to east. Precipitation could actually start as some wet snow even in areas down close to the coast for a very short time before it goes to rain. Again the main risk area for any accumulation will be north of Route 84.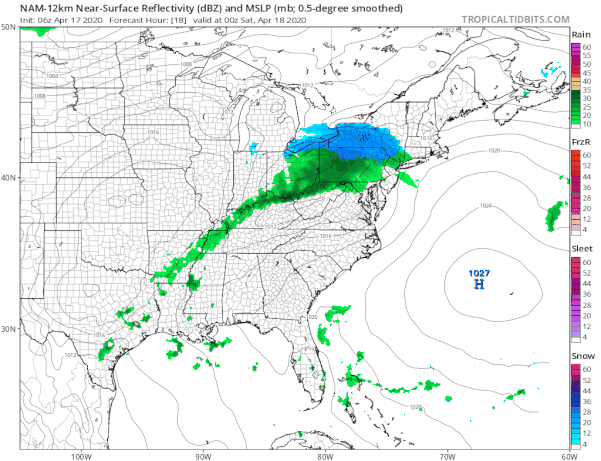 The low that moves off the New Jersey coast will take precipitation out to the east and offshore during Saturday morning. We could see some improvement Saturday afternoon clouds. Temperatures west and south of NYC will reach the 50s with 40s everywhere else.
Sunday could wind up being the better of the two weekend days as temperatures head into the 60s though we will see sunshine giving way to arriving clouds. A cold front will be approaching and moving through and a storm will be developing in the Southeast US and that will head to the northeast offshore. This storm is going to produce a widespread area of severe weather Sunday across the Gulf States and the Southeast US. The low is still forecast to track northeast and stay mostly offshore.
Rain could skim the coastal areas Sunday night into Monday morning. For everyone else it will be just some clouds and the chance for a shower as the cold front goes by. Weather conditions will improve on Monday but we do have another stronger cold front arriving late Tuesday with the chance for showers and thunderstorms.
MANY THANKS TO TROPICAL TIDBITS FOR THE USE OF MAPS
Please note that with regards to any severe weather,  tropical storms, or hurricanes, should a storm be threatening, please consult your local National Weather Service office or your local government officials about what action you should be taking to protect life and property.