Winter Weather Advisory Northern New Jersey
Hudson Valley Connecticut Northward For Freezing Rain Friday

Winter Weather Advisory Northern New Jersey
Hudson Valley Connecticut Northward For Freezing Rain Friday
Winter Weather Advisory Northern New Jersey Hudson Valley Connecticut Northward For Freezing Rain Friday. NYC and Long Island and New Jersey south of Route 78 are not in the advisory area at this time though that could change Friday depending on how far south cold air gets. The advisory is for mostly freezing rain with maybe a little snow at the end but freezing rain is the primary issue here. Ice accretion rates of a tenth to as much as a quarter of an inch is likely in the advisory zone with less than a tenth of an inch or less to the south down to Route 195 in New Jersey and to the northwest of Philadelphia and Harrisburg. Snow cover is rapidly getting eaten away thanks to overnight and morning dense fog and now we are also adding rain to the mix.
SATELLITE

WEATHER RADAR

Radar shows a large area of rain to the west beginning to move in and will see rain or showers today with highs in the mid 40s to lower 50s with the warmest temperatures to the south across Southern Pennsylvania and Southern New Jersey. Rain continues tonight with temperatures slowly falling into the 30s by morning except in the advisory area where temperatures will go below freezing by morning and rani begins to change to freezing rain, covering most if not all of the advisory zone by morning.
The Weather Prediction Center has the 50% chance of ice accretion of a tenth of an inch or more into Northern New Jersey and Pennsylvania mainly to the south and west of Route 78. The questions for Friday morning into the afternoon is how far south does the 32 degree line get and how fast do temperatures continue to fall once we get below freezing.
This is about where we see the 32 degree line at 10am. Even though roads won't be brined ahead of this due to the rain overnight (washes brine away) the rain will keep paved surfaces warmer for a few hours so that may help. On the other hand if these temperatures are too high, or if we see them drop into the 20s in very short period of time that will counteract and freezing of paved surfaces will come faster. We all know what a lttle glaze of ice can do so the best advise I can give here is to avoid driving.
During the afternoon Friday as the cold front offshore pushes further away dry cold air takes over and freezing rain will either come to an end or in some areas it could end as some snow and a coating to as much as an inch is a possibility. Then skies clear Friday night with Saturday morning lows in the teens with well inland cold spots in the single digits. There are no issues for the weekend other than it will be cold with highs ni the 20s on Saturday with sunshine and into to 30s on Sunday with no worse than partly sunny skies. Next week looks mostly dry through Thursday before we start to deal with some more changes. Tuesday may be the only day where we see cloud and the chance for a little rain or wet snow as a weak coastal low throws back a bit of moisture but it shouldn't really be a problem Below are updated National Weather Service Ice Forecast Maps which have all been updated with any changes.
Southern New England Ice Forecast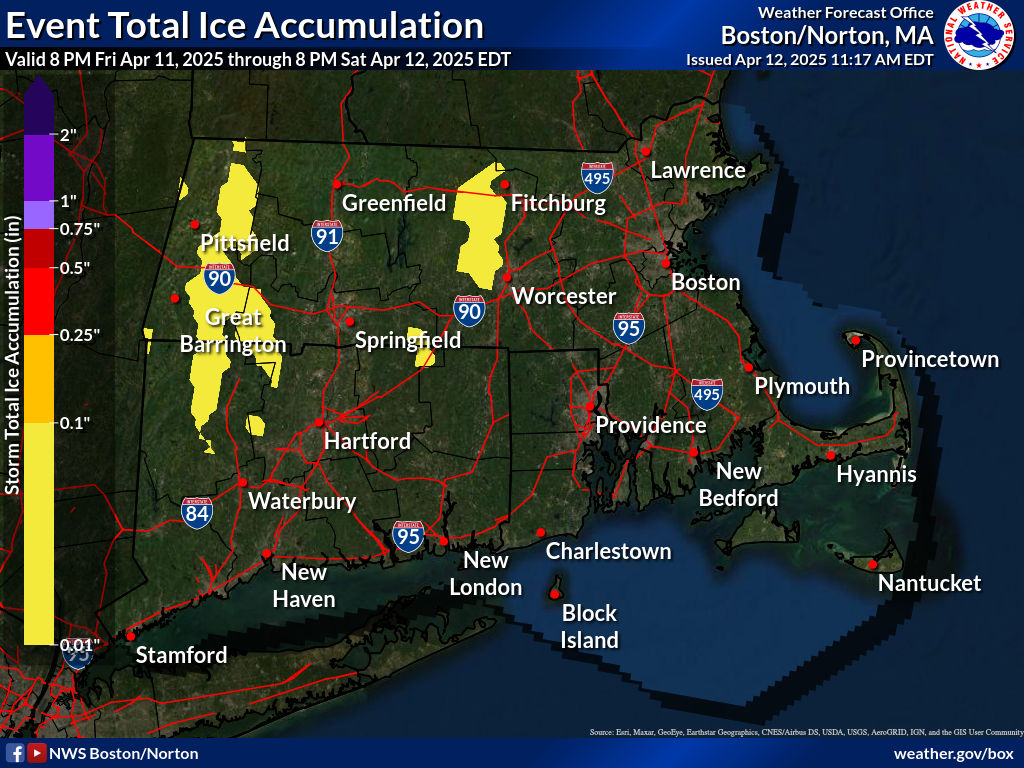 EASTERN PENNSYLVANIA NW CENTRAL & SOUTH JERSEY/DE MD
Please note that with regards to any severe weather,  tropical storms, or hurricanes, should a storm be threatening, please consult your local National Weather Service office or your local government officials about what action you should be taking to protect life and property.