DOWNLOAD MY APP FOR FREE & CONSIDER JOINING PATREON

Snow Ice Forecasts Winter Weather Advisories Sunday 12/16/2018
…WINTER WEATHER ADVISORY IN EFFECT FROM MIDNIGHT TONIGHT TO
6 AM EST MONDAY…
* WHAT…Mixed precipitation expected. A period of freezing rain
with accumulations of one tenth to one quarter of an inch is
possible tonight into Sunday. As the system departs, a wintry
mix will then be possible Sunday night, with snowfall
accumulations of up to two inches possible.
* WHERE…In Pennsylvania Carbon, Monroe, Pike Counties, In New Jersey, Sussex, Warren & Western Passaic County. In New York,
Orange, Dutchess and Putnam Counties.
* WHEN…From midnight tonight to 6 AM EST Monday.
* ADDITIONAL DETAILS…Plan on slippery road conditions.
PRECAUTIONARY/PREPAREDNESS ACTIONS…
A Winter Weather Advisory means that periods of snow, sleet or
freezing rain will cause travel difficulties. Expect slippery
roads and limited visibilities, and use caution while driving.
It is no surprise that Winter Weather Advisories are posted for the counties listed above as well as the rest of Northern Pennsylvania, much of Upstate New York & Northwest Connecticut. We are forecasting wintry precipitation to begin before daybreak as freezing rain and sleet. Some wet snow will gradually mix in and in some places we will see a change to wet snow. Elevation will be driving accumulation amounts. It is possible that the bordering counties to the south in Northern New Jersey down to NYC & Western Long Island as well as the Lower Hudson Valley & Connecticut south of Route 84 could see some sleet or wet snow mixing in at some point later on Sunday.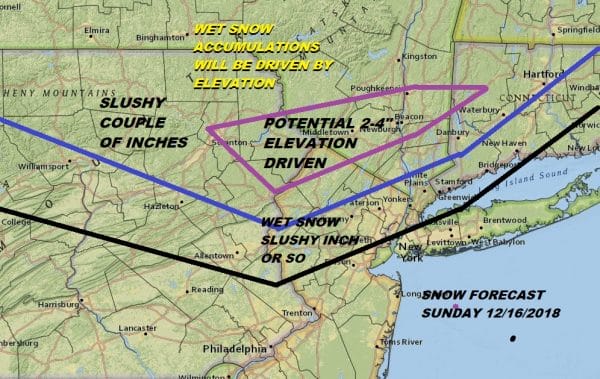 The map above was my forecast that I issued earlier today. I'm making no changes to it at this time. The National Weather Service snow and ice forecasts are shown below. They are somewhat different in some places but that's what makes a forecast. I decided to go a little higher to the north and west where elevation dominates the geography. Nothing much happens tonight with rain developing but expect a change to sleet and freezing rain in the advisory area to occur between 4 and 7am. Precipitation lasts through the day and into tomorrow night with a change to wet snow and sleet. Along the coast it will be a cold raw rainy day with temperatures just in the 30s. Inland temperatures will be close to or slightly below freezing for much of the day so slick and icy spots will develop. It all comes to and end late Sunday night with windy and cold conditions on Monday but with some developing sunshine.
SUBSCRIBE TO MY WEATHER PLATFORM ON PATREON
SNOW FORECAST MAPS
New York City, Ne NJ, HV, LI, Coastal Ct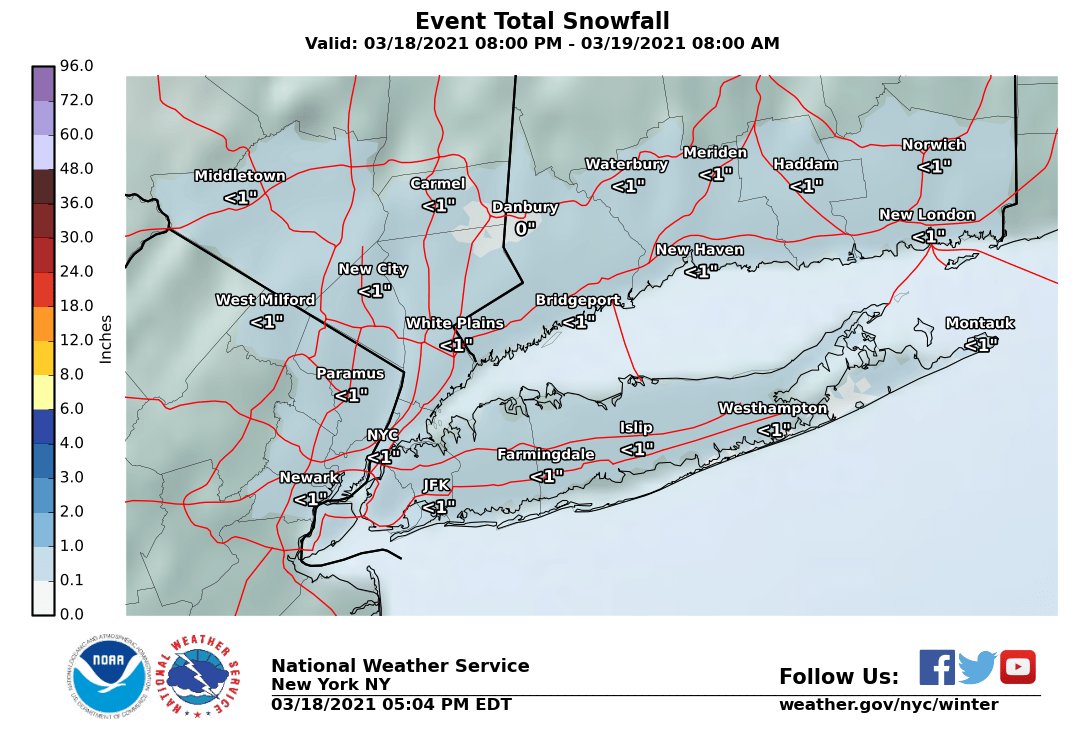 NEW YORK CITY & VICINITY ICE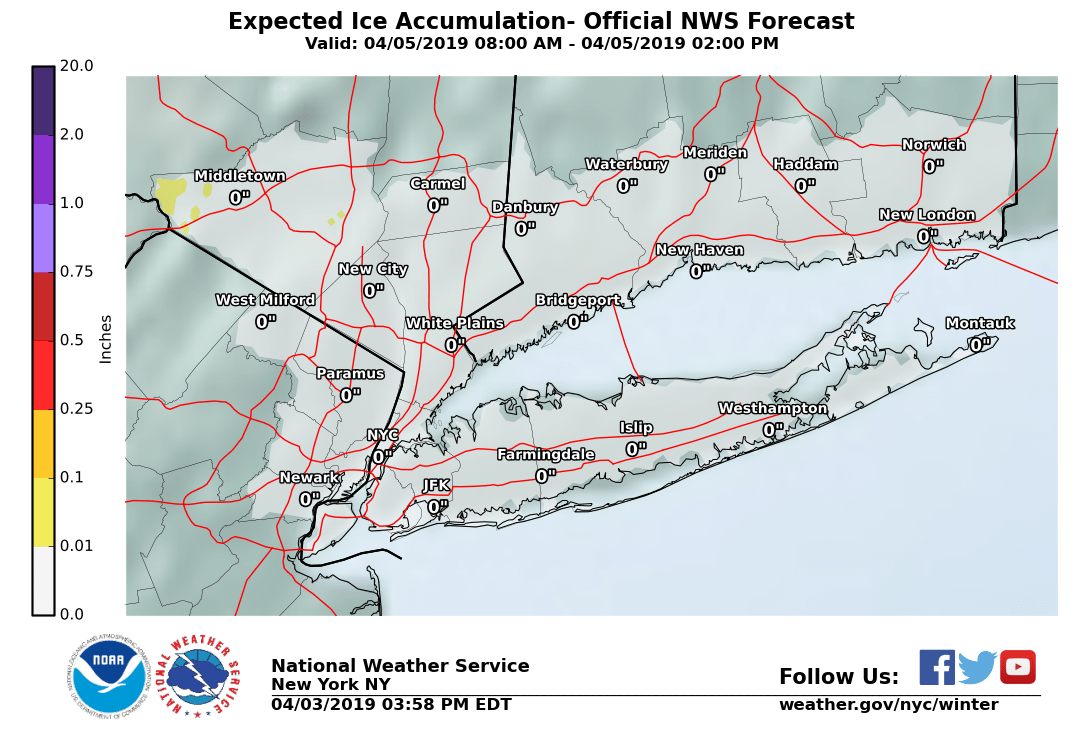 NEW JERSEY & PARTS OF NE PA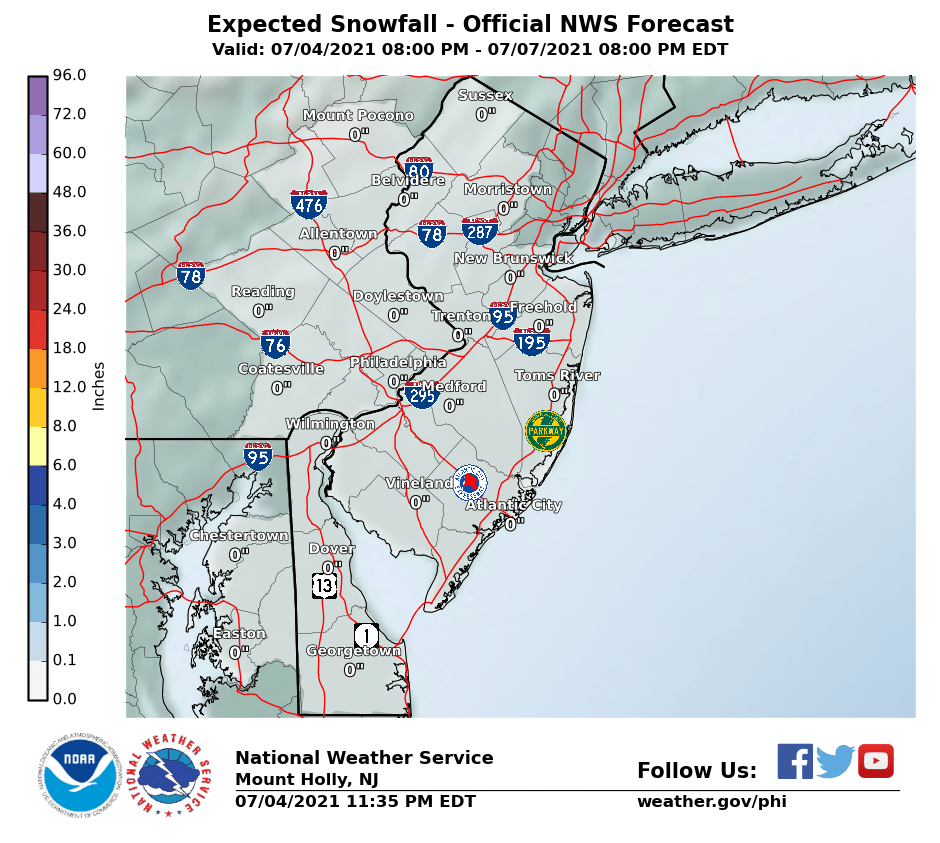 NEW JERSEY & PARTS OF NE PA ICE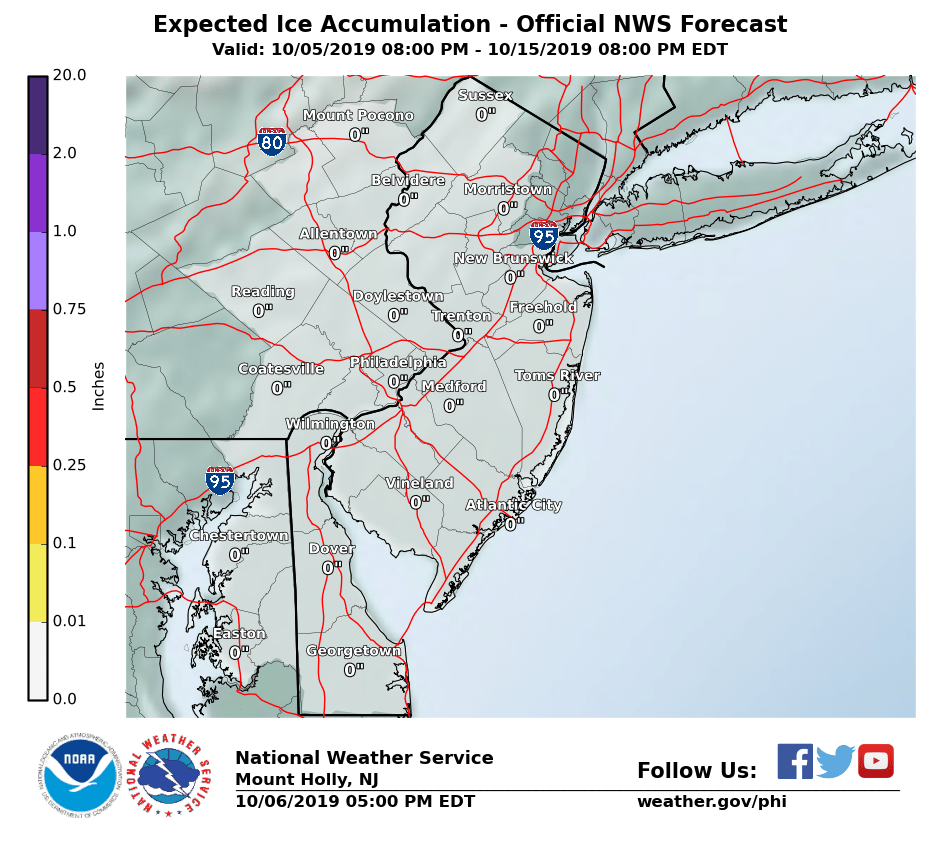 SOUTHERN AND SOUTHEAST NEW ENGLAND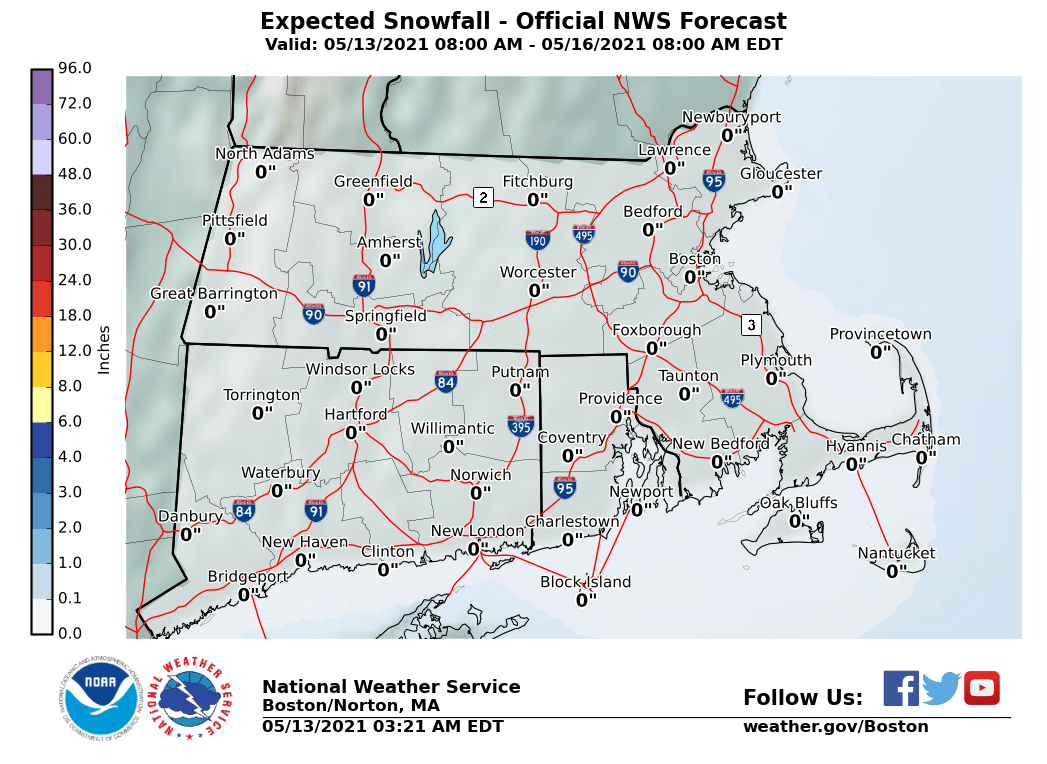 NORTHERN NEW ENGLAND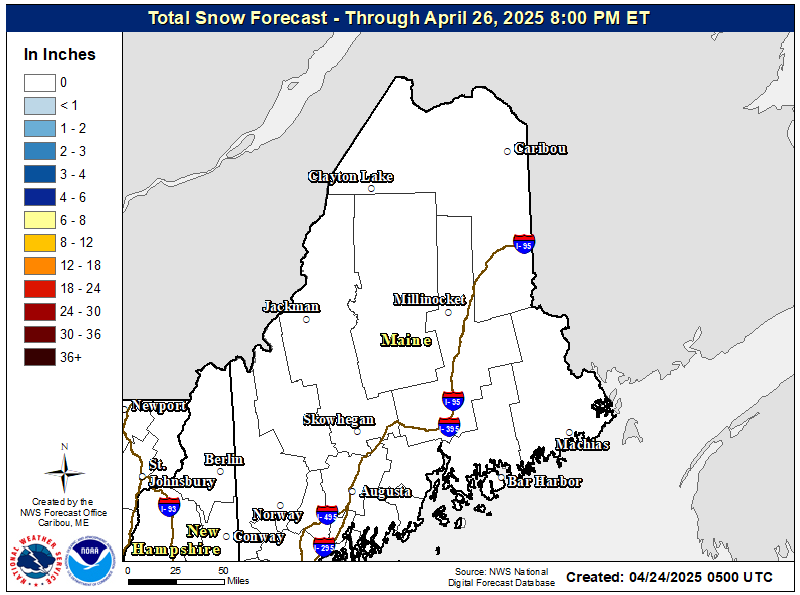 MIDDLE AND UPPER HUDSON VALLEY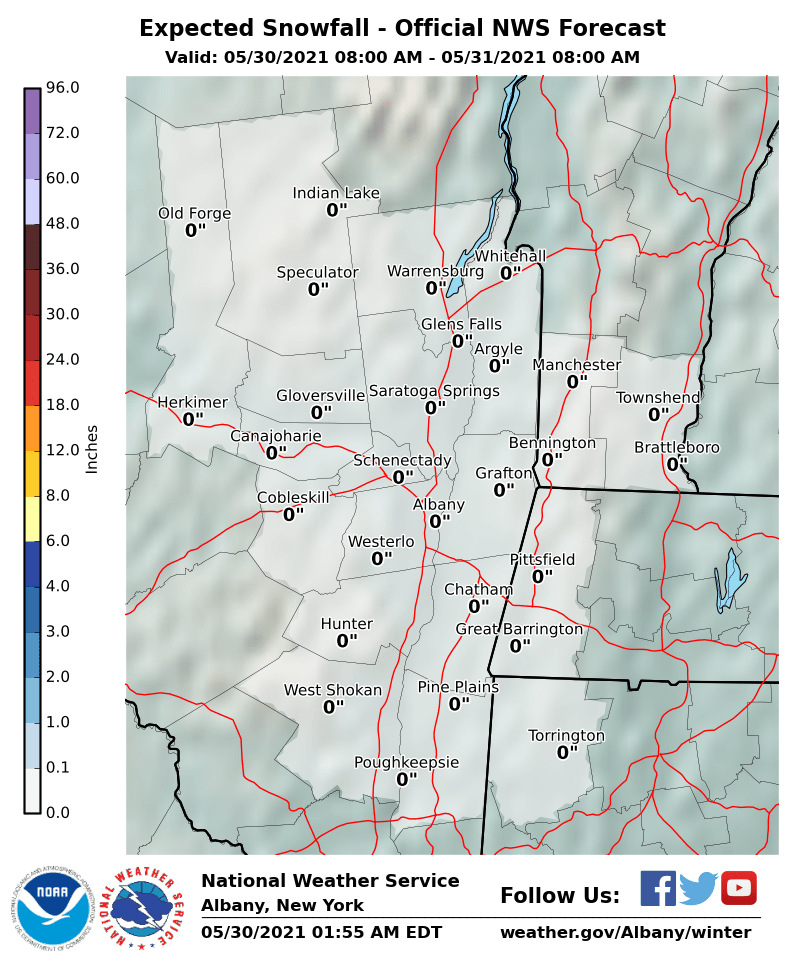 CENTRAL NEW YORK & NE PA
CENTRAL & SOUTH CENTRAL PA
VIRGINIA & MARYLAND
DAILY NORTHEAST SNOWFALL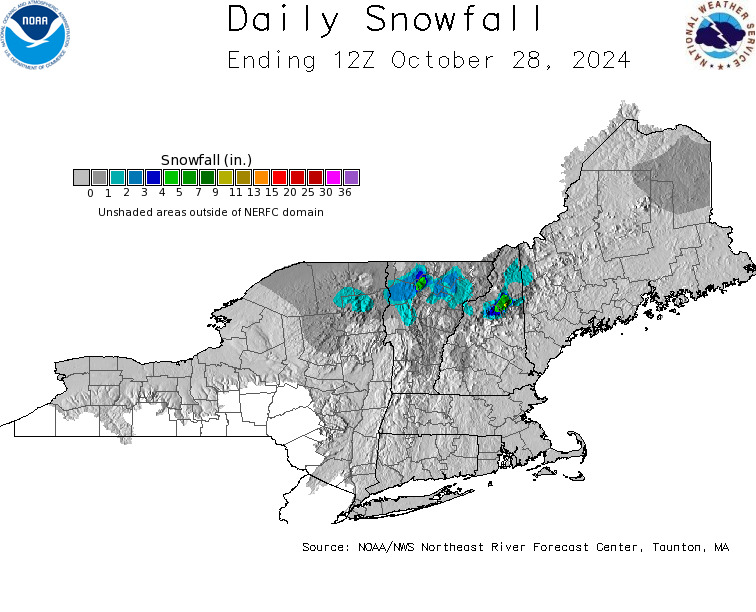 Please be advised that these are National Weather Service Forecast Maps and they auto update. Each office may update at different times and some offices are slower to update then others. Maps are usually updated before 5am and & 5pm however they may be updated at other times depending on forecast conditions. These are not my forecasts. My forecasts can be found on the JOE'S SNOWFORECAST PAGE. Individual forecasts for specific areas may also be found when conditions warrant on the my area forecasts. Those can be found on the website menu. Click on forecasts and then select your specific area.