Winter Weather Advisory Into Midday Freezing Rain North & West I-95,
Bitter Cold Late Monday Into Wednesday Morning

Weather in 5/Joe & Joe Weather Show Latest Podcast
Winter Weather Advisory Into Midday Freezing Rain North & West I-95,
Bitter Cold Late Monday Into Wednesday Morning

There are no important changes in the forecast for today regarding freezing rain moving across Pennsylvania this morning and heading east. Winter Weather Advisories are up for much of Pennsylvania, Northern New Jersey along and northwest of I-95 (the turnpike), the Catskills, the Hudson Valley and into Connecticut where the southern line of the advisory veers northeastward north of 15 to I-91.
Ice accretion is not forecast to be anything heavy. In fact it is very light for the most part but due to the cold ground as skies were clear and temperatures were in the teens and low 20s overnight, even the slightest amount of rain will freeze on contact and you will slip sliding all over the place. Ice accretion forecasts are heaviest in Pennsylvania with lighter amounts in New Jersey and along I-95 where the average should be .01 to .05 of an inch. To compare it to a few days this is about the same amount that fell, which means it is light but potentially dangerous on glazed roadways.
SATELLITE

WEATHER RADAR

We are watching rain advancing eastward on the radar. There are some patches that have run out ahead. Most of it is on the light  side and it looks like it is lining up along and north of Route 78 in Pennsylvania and into New Jersey. Keep an eye on temperatures. Eventually they should rise toward 32 later this morning or early afternoon. Outside of the advisory zone just keep an eye this morning in case rain sneaks in while temperatures are lying close to freezing. By the time the main rain arrives later on around midday or early afternoon, temperatures should be approaching 40 or so and it will be rain.
The arctic front that is pushing all this along eastward moves offshore and next comes the coldest air of the season so far. We will see temperatures Monday settle into the 20s to around 30 during the day with ineffective sunshine mixed with some clouds and gusty wind. Then temperatures nose dive Monday night into Tuesday morning.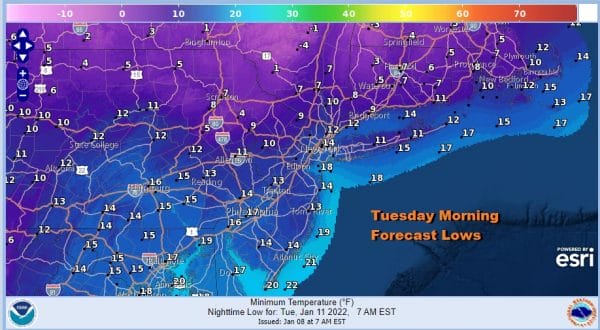 By Tuesday morning lows will be in the single digits and low teens everywhere except for maybe 15 or so in the warmest urban locations. Tuesday we will have grossly ineffective sunshine with temperatures going absolutely nowhere. The core of the cold air will be moving in and highs will be mostly in the mid to upper teens. Perhaps the warmest urban locations might get to lower 20s. Also it should reach lower 20s across Southern Pennsylvania, Southern New Jersey and points southward.
Tuesday night into Wednesday morning is going to be the coldest of this stretch as the arctic high settles along the Virginia coast. With clear skies temperatures will be heading down to the single digits in many locations and the warmest areas along the coast and urban locations will be in the low teens. If winds drop off then we could see even lower numbers.
Wednesday temperatures will bounce quickly higher as the high moves out and we will see sunshine. Highs Wednesday afternoon should reach the 30s everywhere and many areas will probably go near or above freezing. The nice thing about arctic shots like this is they usually only last a couple of days. We will see a slight warm up into Friday before another front arrives and the long range is complicated by several systems, a building cold high in Canada, and other complications. We will be addressing those later today.

Please note that with regards to any severe weather,  tropical storms, or hurricanes, should a storm be threatening, please consult your local National Weather Service office or your local government officials about what action you should be taking to protect life and property.